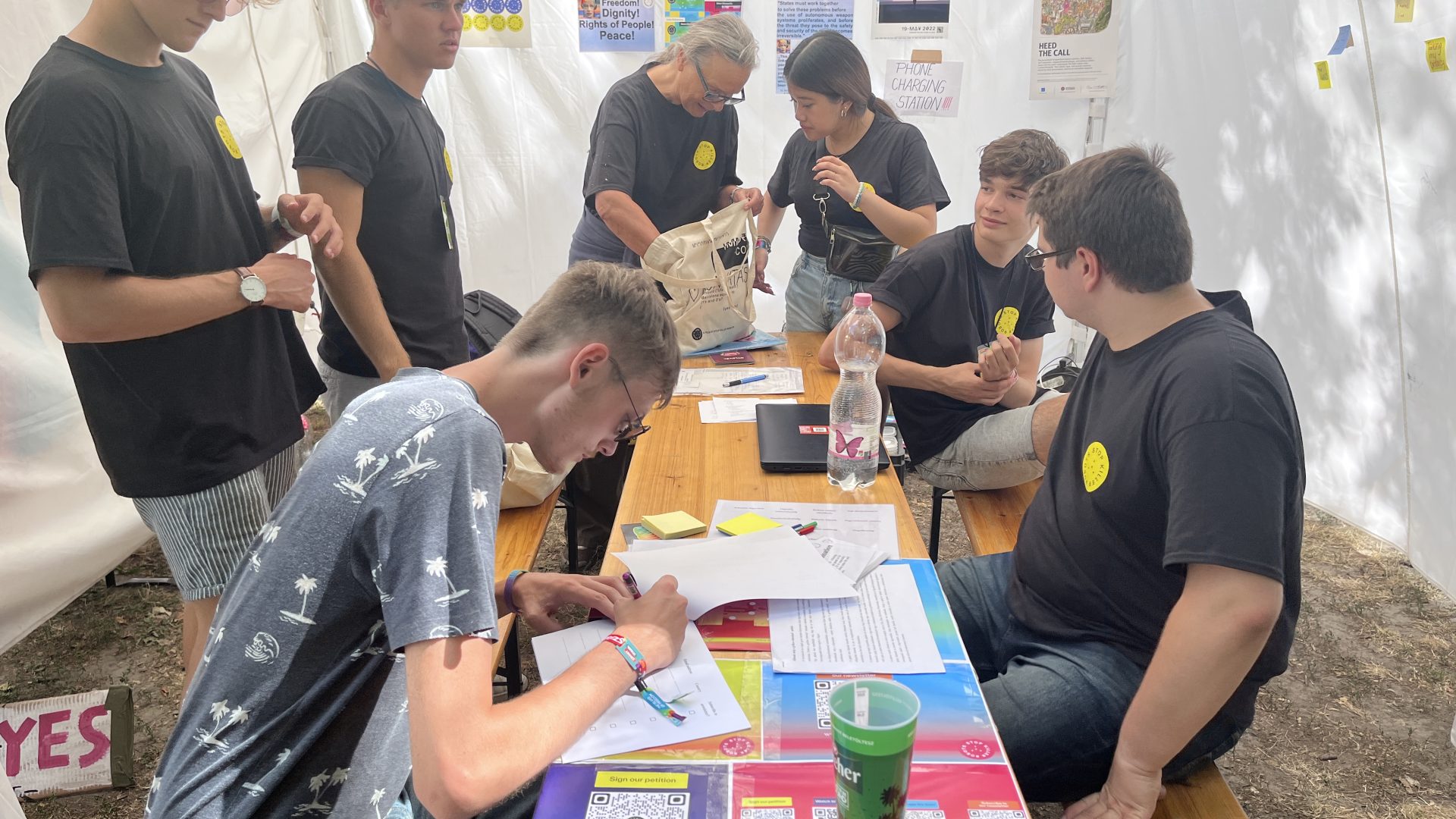 Stop Killer Robots at the Sziget Festival
In August 2022, Stop Killer Robots was invited by Hungarian campaigners to join the Sziget music festival in Budapest. Our tent attracted hundreds of festivalgoers who participated in interactive discussions, games, and quizzes, eager to learn more about digital dehumanization and automated decision
"When we say killer robots, what's the first thing that comes to your mind?" This is the question we threw around at the Sziget music festival this year, and the answers we got were both interesting and revealing of where the issue of autonomous weapons stands with other young people. 
The political climate worldwide has changed drastically in the past few years, and with it, we have seen an increase in young people engaging in their communities and advocating a better future for themselves and others. Activism has long been synonymous with youth culture – from the climate crisis, racial justice, women's rights, and many other current issues, young people everywhere are getting involved in social and political causes, advocating for those they feel are urgent. The same should be true of disarmament issues, including digital dehumanization and the automation of violence. While the subject of autonomous weapon systems, or killer robots, still seems for many like a dystopian future taken right out of a sci-fi movie (Terminator, anyone?), the reality is that it is a very present issue that we all need to get involved in.
We felt it was crucial to go somewhere where we would have the chance to kickstart this conversation and raise awareness about these topics. That opportunity presented itself when the Hungarian Campaign to Stop Killer Robots signed up to participate in the Sziget music festival in Budapest, and we decided to join them there!
View this post on Instagram
The Sziget festival is one of Europe's most popular music festivals, attended every year by more than 450,000 people from all over the world. In addition to musical lineups and cultural experiences, the festival also hosts an NGO Island, where festival goers can go to learn about current global issues, get educated, and find out how they can get involved.
Led by Dalma Biro and Illes Katona, and accompanied by a team of trained youth activists Aron, Szigu, Vinze, and Tina, the Hungarian Campaign reserved a tent on the NGO Island from August 10 to August 12, 2022, to conduct daily activities on killer robots and related issues.
Want to see more of our time at Sziget? Follow us on TikTok!
For 3 days, we welcomed people into our tent who took part in discussions, games, and quizzes around autonomous weapons and digital dehumanization. Our youth activists also scoured the festival island every day, engaging people in conversation around these topics, and gathering signatures for our global petition to stop killer robots. At the festival, we gathered 200 new petition signatures of 'Szitizens' from over 40 countries. 
The energy of the festival was electrifying and vibrant, and it proved fun and easy to approach people around the island to open up discussions about killer robots.
View this post on Instagram

"When we say killer robots, what's the first thing you think of?"
Often we were met with confusion or lack of awareness that this was a serious question. But once people heard more about why autonomous weapons are a real concern, they shared some very strong and enlightening opinions with us and were eager to learn more about how they could take action and get involved to support our work
Watch some of their reactions in the video below.
All in all, we had an amazing experience talking to people at the Sziget Festival, raising awareness about the Stop Killer Robots campaign, and building support and engagement for an international treaty on autonomous weapons.
We hope this opened the door to youth discovering more about this issue, and taking action against it in their own capacity. 
Want to know more about how to get involved? Check out our Take Action page!