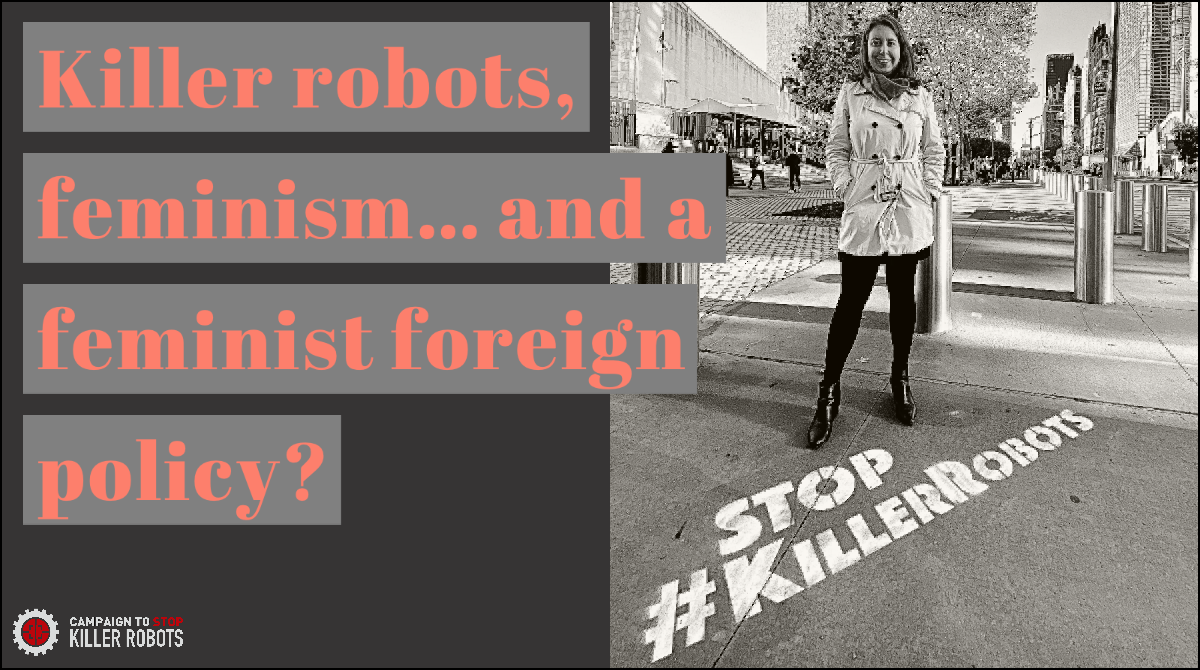 Killer robots, feminism… and a feminist foreign policy?
Erin Hunt is the Program Manager at Mines Action Canada, a member organisation of the Campaign to Stop Killer Robots. Her expertise includes the humanitarian impact of indiscriminate weapons, victim assistance, gender in disarmament and Canadian disarmament policy. Photo: Clare Conboy.
What are killer robots and what do they have to do with feminism? Killer robots are weapons systems that will select targets and decide to engage without meaningful human control. So robotic weapons systems making life and death decisions. Scary right? But why is this a feminist issue? Why are so many feminists working hard for a new international treaty to ban them? And is there a feminist solution?
In general, autonomous weapons would magnify the power imbalances and biases that feminists worldwide are trying to dismantle. For that reason alone, achieving a ban on fully autonomous weapons or killer robots is a feminist issue. Below are some of the main problems with and solutions to killer robots from a feminist perspective.
Gender-based violence
Contrary to arguments made by proponents of autonomous weapons, there is a risk of autonomous weapons being used to commit gender and sexual based violence. Anyone who argues that autonomous weapons could be beneficial because "robots won't rape" does not understand sexual violence. The use of rape in armed conflict is not about the lustful urges of individual soldiers, most of the time rape is used as a tactic against men and women to assert power and shame populations. There is nothing that would prevent an autonomous weapon being used in such a manner.
While most people think about women and girls when discussing the gendered impact of weapons, a major concern would be the danger to men and boys that autonomous weapons could pose. We already see examples of men being targeted during armed conflict based on their gender, age and location, so it stands to reason that gender based violence will be compounded if human judgment is taken out of the targeting process.
There's more to this than gender-based violence.
When we include the lived experience of marginalized communities in the discussion of autonomous weapons, the need for a ban becomes even more clear. Numerous researchers of colour have shown that human biases end up influencing artificial intelligence and the data we use to train a machine learning program often reflects our own patriarchal, ablest and racist society. When you have biased AI which misidentifies people of colour involved in targeting decisions without meaningful human control, we're going to see people who shouldn't be targeted being targeted.
Side note: Stay tuned for another blog by one of our fabulous campaigners of colour on this particular point next month!
Solutions.
The Campaign to Stop Killer Robots started off 2020 with some great news from Canada — a state that claims to have a Feminist Foreign Policy! But before I get to the good news, what's a feminist foreign policy? The Centre for Feminist Foreign Policy says that:
"A Feminist Foreign Policy (FFP) is a framework which elevates the everyday lived experience of marginalized communities to the forefront and provides a broader and deeper analysis of global issues. It takes a step outside the black box approach of traditional foreign policy thinking and its focus on military force, violence, and domination by offering an alternate and intersectional rethinking of security from the viewpoint of the most marginalised. It is a multidimensional policy framework that aims to elevate women's and marginalised groups' experiences and agency to scrutinise the destructive forces of patriarchy, capitalism, racism, and militarism."
Back to Canada! When the new government was sworn in, the mandate letter for Minister of Foreign Affairs, François-Philippe Champagne, includes instruction to "advance international efforts to ban the development and use of fully autonomous weapons systems". Sweden's Foreign Minister has also recently made comments indicating support for action on autonomous weapons.
These policy decisions are a recognition that fully autonomous weapons are incompatible with a Feminist Foreign Policy. We are waiting to see how these policy decisions will be implemented — will they be done in a truly feminist way by including marginalized populations and prioritizing human security or will we default back to traditional ways of working. For example, Minister Champagne's mandate letter has definitely been noticed internationally and states will be looking to see a change in Canada's position at the United Nations. We will be looking to see if Minister Champagne is working with his counterparts in National Defense, Innovation, Science, and Industry, Public Safety and Justice to formulate a strategy to bring Canada and the world towards a ban on autonomous weapons systems.
What next for Mexico, Sweden, France and Luxembourg who all have or will have a Feminist Foreign Policy? A ban on autonomous weapons systems would be a big win for Feminist Foreign Policy. All these governments with Feminist Foreign Policy will need to give their diplomats the time and resources needed to make the ban a reality but with support and political will it can be done in the next two to three years.
This all is a reason for hope. Feminists have had some major wins over the last few years with movements mobilizing on a huge scale from Argentina to Ireland, South Africa to Canada, Sweden to the United States. Around the world, we have seen tech workers organizing to ensure that their work is not used to create autonomous weapons. They want to redirect technology advances from violence, militarism and oppression to projects that benefit humanity. A Feminist Foreign Policy needs this shift away from militarism to happen and a ban on autonomous weapons is one step along the way.

The Campaign to Stop Killer Robots is putting together a short video about killer robots and feminism! If you want to have your say and be part of ensuring a feminist future, send us a selfie video via our new app ⬆.
For further reading on killer robots and feminism, check out this great publication by the Women's International League for Peace and Freedom.
---
Original Article posted on Medium.com.