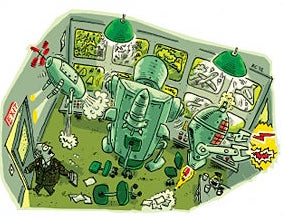 Review of the 2012 US Policy on Autonomy in Weapons Systems
This 9-page briefing paper reviews the US Department of Defense public policy directive on autonomy in weapons systems issued on 21 November 2012.
On November 21, 2012, the US Department of Defense issued its first public policy on autonomy in weapons systems. Directive Number 3000.09 (the Directive) lays out guidelines for the development and use of autonomous and semi-autonomous weapon systems by the Department of Defense.
The Directive also represents the first policy announcement by any country on fully autonomous weapons, which do not yet exist but would be designed to select and engage targets without human intervention.
You can find the publication on the Human Rights Watch website here.
The issuance of the Directive reflects that the United States is turning toward increasingly autonomous weapons systems and highlights the need to draw lines between different ones.