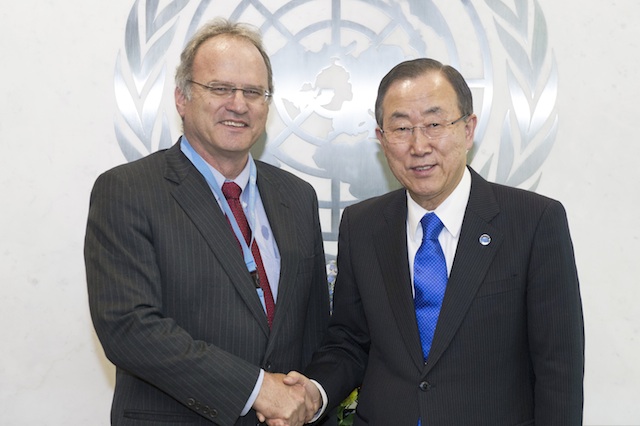 UN wants action on killer robot concerns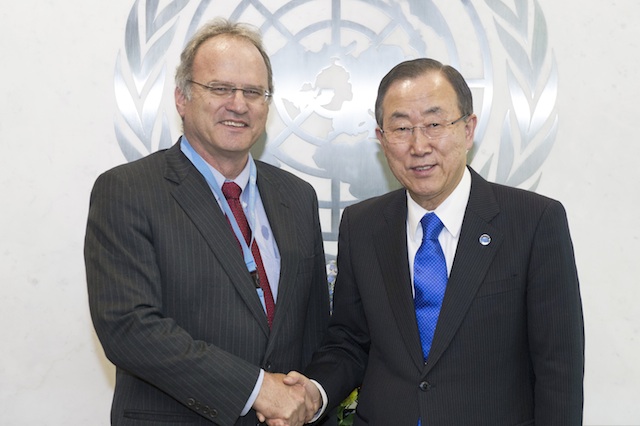 In his tenth report on the protection of civilians in armed conflict issued on 22 November 2013, United Nations Secretary-General has called for international action to address the concerns over fully autonomous weapons or 'killer robots.' The remarks are the latest in a string of statements that United Nations (UN) officials have made on the topic during 2013 at the Human Rights Council, Convention on Conventional Weapons, and elsewhere.
Section III of the 2013 protection of civilians report by UN Secretary-General Ban Ki-moon on "new weapons technologies" details concerns over remotely piloted aircraft or drones and their compliance with international humanitarian law and human rights law as well as proliferation concerns. The final paragraph in the section states:
29. In the future, these concerns, and others, may apply also to the use of autonomous weapons systems, or what are known as "killer robots", which, once activated, can select and engage targets and operate in dynamic and changing environments without further human intervention. Important concerns have been raised as to the ability of such systems to operate in accordance with international humanitarian and human rights law. Their potential use provokes other questions of great importance: is it morally acceptable to delegate decisions about the use of lethal force to such systems? If their use results in a war crime or serious human rights violation, who would be legally responsible? If responsibility cannot be determined as required by international law, is it legal or ethical to deploy such systems? Although autonomous weapons systems as described herein have not yet been deployed and the extent of their development as a military technology remains unclear, discussion of such questions must begin immediately and not once the technology has been developed and proliferated. It must also be inclusive and allow for full engagement by United Nations actors, ICRC [International Committee of the Red Cross] and civil society.
At the beginning of the Convention on Conventional Weapons annual meeting on 11 November 2013, UN Secretary-General Ban Ki-moon made his first statement on killer robots, calling on states parties to "remain vigilant in addressing the implications of new and emerging weapons and their technologies." He said, "I particularly encourage you to further engage in dialogue on all aspects of the issue of autonomous weapons systems, to better understand their potentially grave humanitarian impact and to consider their implications in the context of international humanitarian law and the Convention."
UN High Representative for Disarmament Affairs, Angela Kane, and other UN officials have welcomed the mandate decision by the Convention on Conventional Weapons to take up the matter in 2014. The Geneva office of the UN Office for Disarmament Affairs will support the 117 states party to the Convention on Conventional Weapons (CCW) to hold an experts meeting on 13-16 May 2014 to consider questions relating to the emerging technologies of "lethal autonomous weapons systems."
Earlier in the year, in a July 2013 Huff Post op ed, Kane argued "the time is ripe for both Governments and civil society to conduct a thorough examination of the political, legal, technical and ethical implications of such weapons." Kane first articulated her views in a May 2013 statement to the Human Rights Council that described autonomous weapon systems as posing "unique challenges that deserve further consideration and action in the appropriate United Nations forums." She noted that "[h]istory has proven that we need not wait for a weapon system to fully emerge before appropriate action can be taken to understand its implications and to adopt effective measures to mitigate and eliminate unacceptable risk."
On 30 May 2013, UN Special Rapporteur on extrajudicial, summary or arbitrary executions, Professor Christof Heyns, delivered a report on lethal autonomous robots to the Human Rights Council that cited a wide range of objections to the weapons and called for international discussions about how to address them. The Heyns report called for a moratorium on lethal autonomous robots to allow "serious and meaningful international engagement on this issue before we proceed to a world where machines are given the power to kill humans."
The moratoria call and other recommendations in the report by Prof. Heyns may be operationalized in a Human Rights Council resolution on his work as special rapporteur that will be considered by the Council at its twenty-sixth session in June 2014. UN High Commissioner for Human Rights Navi Pillay articulated her views on killer robots for the first time in her 10 December 2013 Human Rights Day statement:
[W]e have also seen how new technologies are facilitating the violation of human rights, with chilling 21st Century efficiency. … So-called "Killer robots" – autonomous weapons systems that can select and hit a target without human intervention – are no longer science fiction, but a reality. Their likely future deployment poses deeply troubling ethical and legal questions. Continued vigilance is needed to ensure that new technologies advance rather than destroy human rights. No matter the scale of these changes, existing international human rights law and international humanitarian law governing the conduct of armed conflict remain applicable. States must ensure that they are applied.
The first UN official to raise concerns over killer robots is believed to be the previous UN Special Rapporteur on extrajudicial, summary or arbitrary executions, Prof. Philip Alston, who said in a 28 May 2010 report that "Urgent consideration needs to be given to the legal, ethical and moral implications of the development and use of robotic technologies, especially but not limited to uses for warfare."
For more information see:
Statement by UN High Commissioner for Human Rights Navi Pillay (10 December 2013)
Report by UN Secretary-General Ban Ki-moon (22 November 2013)
Statement by UN Secretary-General Ban Ki-moon (11 November 2013)
Report by UN Special Rapporteur on extrajudicial, summary or arbitrary executions Christof Heyns (30 May 2013)
Report by UN Special Rapporteur on extrajudicial, summary or arbitrary executions Philip Alston (28 May 2010)
Photo: Christof Heyns, UN Special Rapporteur on extrajudicial, summary and arbitrary executions (left) and UN Secretary-General Ban Ki-moon © Eskinder Debebe/UN Photo, October 2013, photo #568910