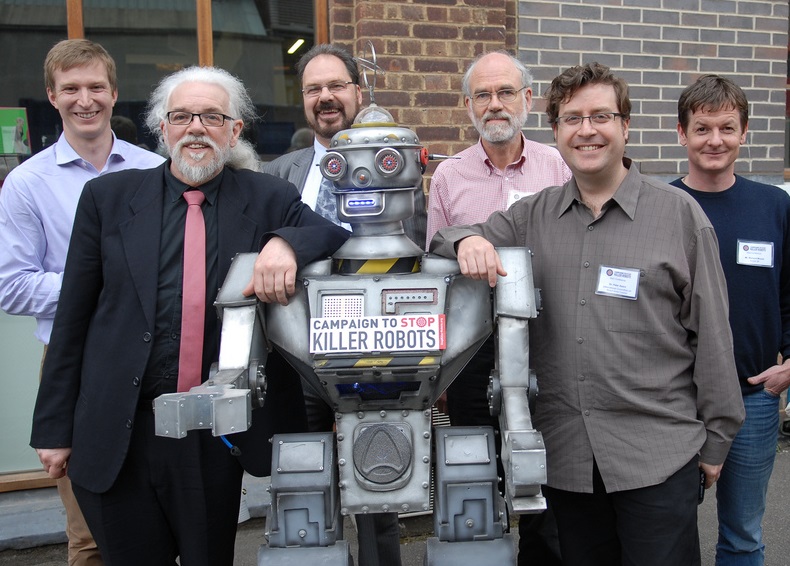 Scientists call for a ban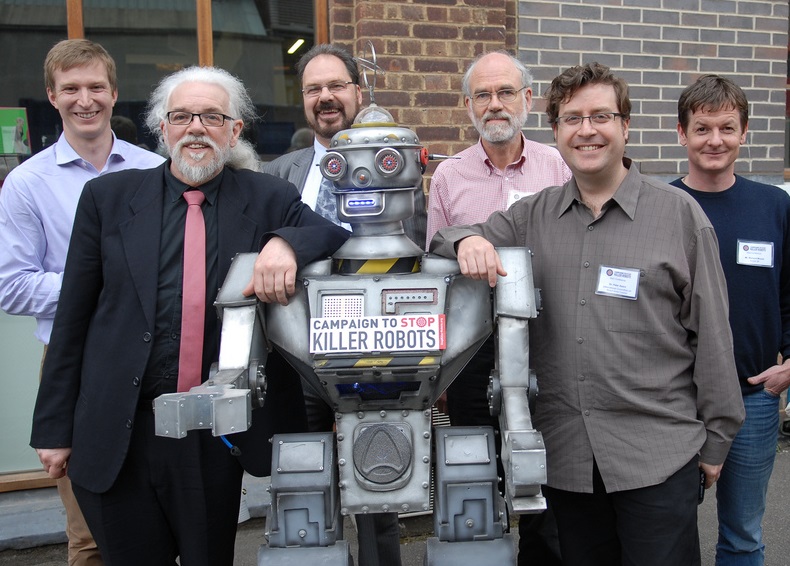 The International Committee for Robot Arms Control (ICRAC), a founder of the Campaign to Stop Killer Robots, has issued a statement endorsed by more than 270 engineers, computing and artificial intelligence experts, roboticists, and professionals from related disciplines that calls for a ban on fully autonomous weapons. In the statement, 272 experts from 37 countries say that, "given the limitations and unknown future risks of autonomous robot weapons technology, we call for a prohibition on their development and deployment. Decisions about the application of violent force must not be delegated to machines."
The signatories question the notion that robot weapons could meet legal requirements for the use of force: "given the absence of clear scientific evidence that robot weapons have, or are likely to have in the foreseeable future, the functionality required for accurate target identification, situational awareness or decisions regarding the proportional use of force." The experts ask how devices controlled by complex algorithms will interact, warning: "Such interactions could create unstable and unpredictable behavior, behavior that could initiate or escalate conflicts, or cause unjustifiable harm to civilian populations."
The statement's signatories include:
Geoffrey Hinton FRS, Raymond Reiter Distinguished Professor of Artificial Intelligence at the University of Toronto
Alan Bundy CBE, FRS, FReng, Professor of Automated Reasoning, University of Edinburgh. Elected a founding fellow of the American Association for Artificial Intelligence
Bruno Siciliano is Past President of the IEEE Robotics and Automation Society and professor of Robotics at the University of Naples Federico II
Lucy Suchman, Lancaster University, UK, recipient of the Benjamin Franklin Medal in Computer and Cognitive Science, and the Lifetime Research Award from the ACM Special Interest Group on Computer-Human Interaction.
James Hendler, Tetherless World Senior Constellation Professor, Computer Science and Cognitive Science, Rensselaer Polytechnic Institute (RPI) former member of the US Air Force Science Advisory Board and a former Chief Scientist of the Information Systems Office at the US Defense Advanced Research Projects Agency (DARPA)
Bart Selman, Professor of Computer Science, Cornell University, Fellow of both the American Association for Artificial Intelligence and American Association for the Advancement of Science.
Hans?Jörg Kreowski, Professor of Theoretical Computer Science, Bremen Univesity, Germany
Tom Ziemke, Professor of Cognitive Science, University of Skovde, Sweden
The statement signatories come from 37 countries: Argentina, Australia, Austria, Bangladesh, Brazil, Bulgaria, Canada, Czech Republic, Colombia, Croatia, Denmark, France, Germany, Greece, Iceland, Iran, Ireland, Israel, Italy, Japan, Kuwait, India, Mexico, Netherlands, New Zealand, Norway, Portugal, Romania, Singapore, Slovenia, Spain, South Korea, Sweden, Switzerland, Thailand, UK and USA.
The signatures to the statement were collected by Professor Noel Sharkey and other member of ICRAC, a not-for-profit organization comprised of scientists, ethicists, lawyers, roboticists, and other experts that formed to address the potential dangers involved with the development of armed military robots and autonomous weapons. Given the rapid pace of development of military robots and the pressing dangers their use poses to peace, international security, the rule of law, and to civilians, ICRAC supports a ban on armed robots with autonomous targeting capability. ICRAC is continuing to collect expert signatures for the statement.
Sharkey and other members of the Campaign to Stop Killer Robots will be in New York on Monday, 21 October to speak at the United Nations.
For more information, see:
Photo: Professor Noel Sharkey and other members of ICRAC  (c) Campaign to Stop Killer Robots, April 2013