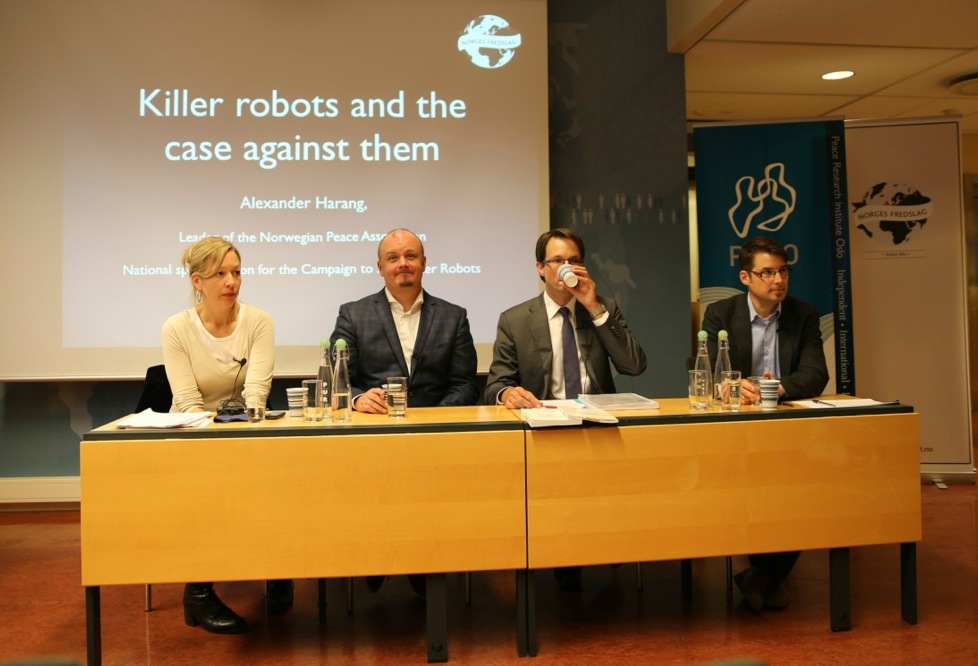 Norwegian campaign gets underway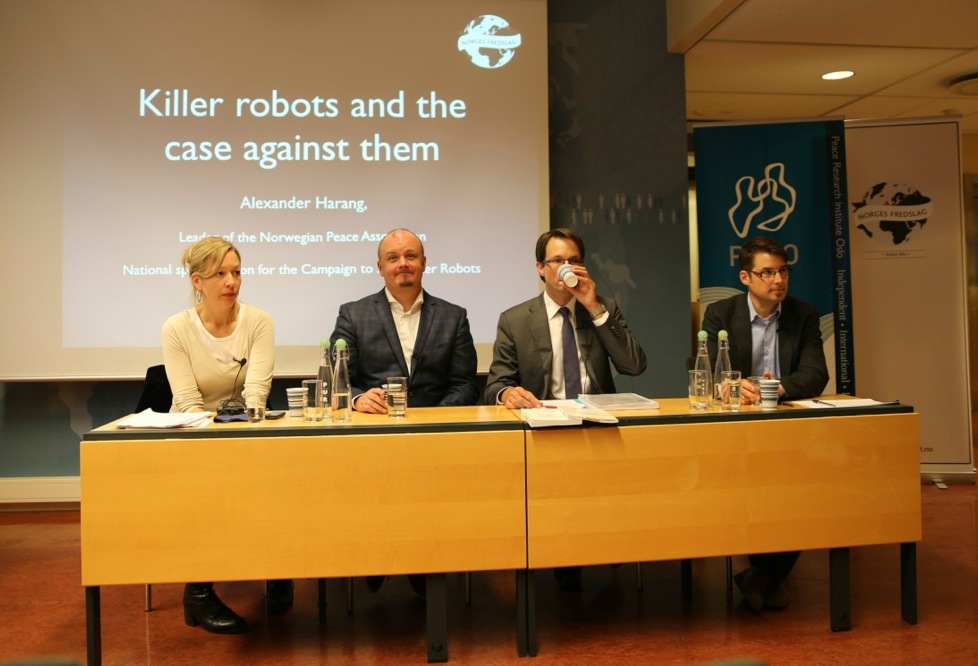 Interest in tackling fully autonomous weapons is growing in Norway with events in Oslo on 4 September, where campaigners outlined civil society concerns and called on the government and opposition parties to articulate their policy on banning the weapons.
More than 50 people attended a breakfast seminar on killer robots (drapsroboter in Norwegian) convened by the Norwegian Centre for Humanitarian Studies (NCHS) at the Peace Research Institute of Oslo (PRIO). Alexander Harang, director of campaign member Norges Fredslaget—Norway's oldest and largest peace organization–told the audience that the campaign is needed because, unlike in other European nations such as Germany and the United Kingdom, fully autonomous weapons have yet to be discussed in the Norwegian parliament and politicians have yet to articulate their position on banning the weapons. Additionally, Norwegian diplomats have yet to provide the country's views on fully autonomous weapons in international fora, such as the Human Rights Council discussion on 30 May 2013.
"We are supposed to be a humanitarian nation of peace," Harang noted as he emphasized the need for Norway express its views on this challenge and commit to work for a ban on fully autonomous weapons. Norway is a respected international leader in humanitarian disarmament, particularly through its central role in the creation of the 2008 Convention on Cluster Munitions and 1997 Mine Ban Treaty.
At the seminar, a postdoctoral fellow at the Norwegian Research Center for Computers and Law at the University of Oslo, Professor Tobias Mahler, said there is a need for much greater transparency with respect to the development of fully autonomous weapons, noting, "we do not yet know how far advanced the military technology is, but when we see what is being put to use civilian use, we can assume that the military technology is step further."
Harang also delivered a lecture at Bjørknes University College in Oslo, where the campaign's message was enthusiastically received by students, who took all the materials provided for their outreach (bumper stickers, reports, brochures).
Norway's 2013 parliamentary election will be held on Monday, 9 September.
Photo: Panel presenters at the PRIO breakfast seminar on killer robots. Alex Harang is second from left. (c) Norges Fredslaget
For more information, see: