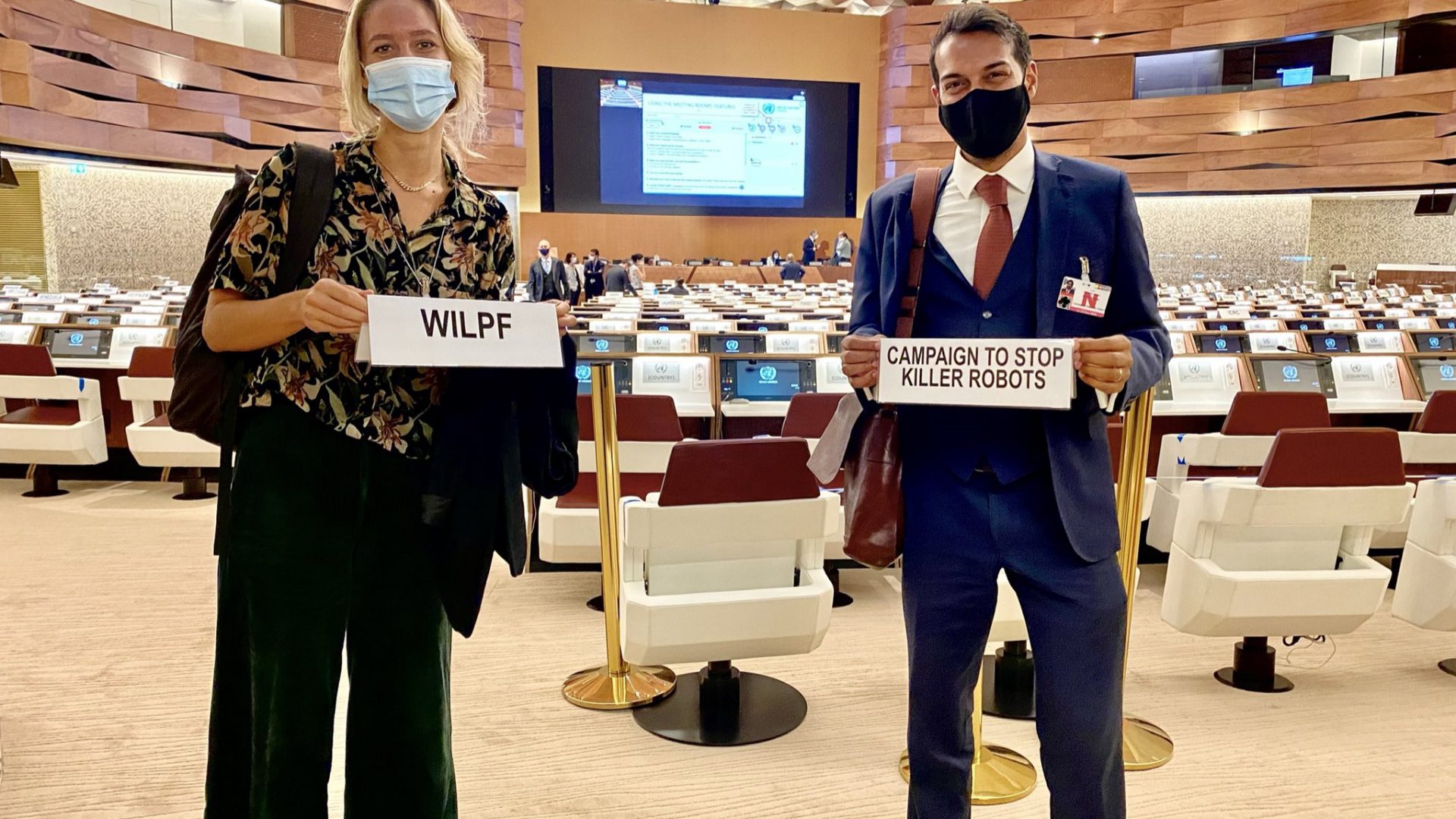 Diplomatic talks re-convene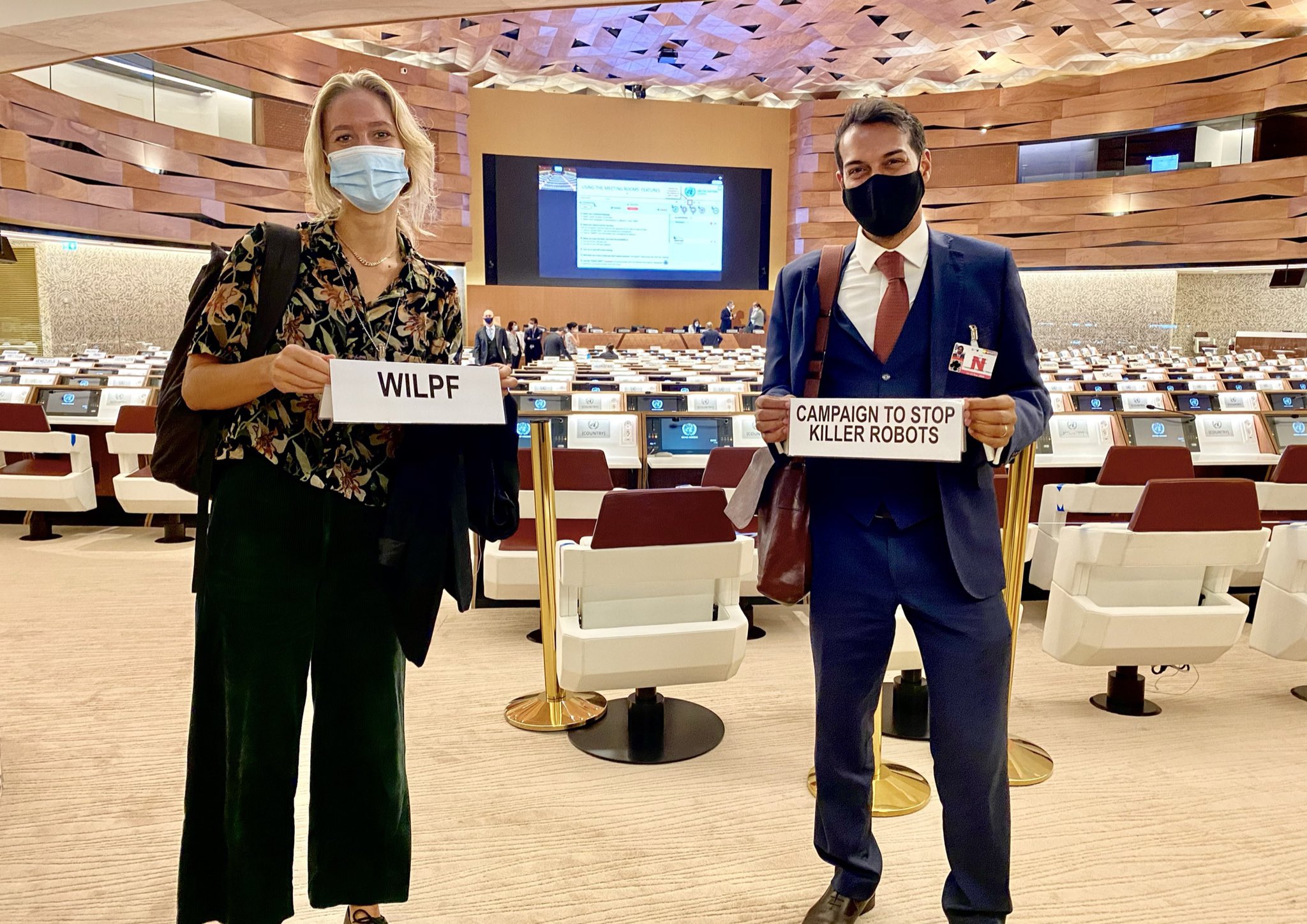 States convened at the United Nations in Geneva this week for another Convention on Conventional Weapons (CCW) meeting on lethal autonomous weapons systems. The COVID-19 pandemic forced the postponement of meetings planned in the first half of 2020. This marked the first time that the CCW has held a physically distanced meeting as well as a virtual one that was broadcast in full on UN Web TV.
Representatives from 56 states participated in the meeting chaired by Ljupcho Gjorgjinski of the Republic of North Macedonia, who also chaired the 2019 CCW talks on killer robots. The International Committee of the Red Cross and Campaign to Stop Killer Robots also attended.
The week-long meeting covered both substantive concerns and the way ahead. It showed how states still have many doubts, questions, and concerns about the sufficiency of existing international humanitarian law to address serious concerns raised by removing meaningful human control from the use of force.
No decisions were taken at the meeting, which heard proposals to negotiate a legally binding instrument or treaty, including from many of the 30 countries that explicitly call for a ban on lethal autonomous weapons systems. China suggested emulating the CCW protocol that preemptively bans blinding lasers.
More than 65 CCW states parties have endorsed group statements calling for a legally-binding instrument to prohibit and restrict such weapons systems, including the Non Aligned Movement (NAM).
During this week's meeting, Iraq made a statement on behalf of the Arab states parties to the CCW, which called for a new treaty to prohibit and restrict lethal autonomous weapons systems, reiterated that other measures cannot replace the required legally binding instrument, and underscored the importance of maintaining human control over the critical functions of weapons. There are 12 Arab states parties to the CCW include Algeria, Bahrain, Iraq, Jordan, Kuwait, Lebanon, Morocco, Qatar, Saudi Arabia, State of Palestine, Tunisia, and the United Arab Emirates.
However, France, Israel, Netherlands, and the United States called moves to created a new treaty "premature" and suggested other measures that fall short of new international law. There were proposals for compilations of existing international humanitarian law, compendiums of best practices and political declarations. Some states sought more principles to guide CCW deliberations on killer robots, in addition to those agreed in 2018 and 2019.
The Campaign regards such measures as premature and better taken after a new international law is adopted. In the Campaign's view, the only credible and logical outcome to the talks is to launch negotiations of new international treaty to ban fully autonomous weapons and retain meaningful human control over the use of force. If it is not possible to launch negotiations by the CCW Review Conference in December 2021, then another forum is needed to discuss content and achieve the treaty goal.
During this week's meeting, almost all states agreed about the need to preserve meaningful human control over the use of force. Many have identified similar components of human control, called for a combination of prohibitions and positive obligations, and recommended prohibiting autonomous weapons systems that target humans or rely on machine learning."
The Campaign regards human control is fundamental to prevent the automation of killing. It welcomes the interest shown by many states in themes that parallel the proposed essential treaty elements outlined by the Campaign. Further substantive work is required to determine the type and extent of human control necessary to ensure compliance with applicable law and respond to ethical concerns.
The CCW talks began in 2014 and in 2016 were mandated "to explore and agree on possible recommendations on options" relating such weapons, which would select and engage targets without meaningful human control. States must strive to identify those options and provide recommendations on them by the end of 2021 at the latest.
During 2014-2019, an average of 90 states participated in eight CCW meetings held on lethal autonomous weapons systems. That included Russia, which was notably absent from the 2020 CCW meeting. In the lead-up, Russia expressed procedural concerns and suggested the planned meetings be postponed until 2021.
Fewer states attended this week's meeting, most likely due to lack of time as registration opened only days before. These states that participated in-person and/or virtually in the CCW meeting: Algeria, Argentina, Australia, Austria, Belgium, Bolivia, Brazil, Bulgaria, Canada, Chile, China, Colombia, Costa Rica, Cuba, Ecuador, Egypt, El Salvador, Finland, France, Germany, Guatemala, Holy See, India, Iraq, Ireland, Israel, Italy, Japan, Jordan, Kazakhstan, Lebanon, Mexico, Morocco, Netherlands, New Zealand, North Macedonia, Norway, Pakistan, Panama, Peru, Philippines, Portugal, ROK, Romania, Saudi Arabia, Slovakia, Spain, South Africa, Sri Lanka, Sweden, Switzerland, Turkey, UK, US, Uruguay, and Venezuela. All are party to the Convention on Conventional Weapons with the exception of signatory Egypt.
Another CCW meeting on lethal autonomous weapons systems is due to be held on 2-6 November 2020, before the CCW's annual meeting on 11-13 November.
For more information, see: