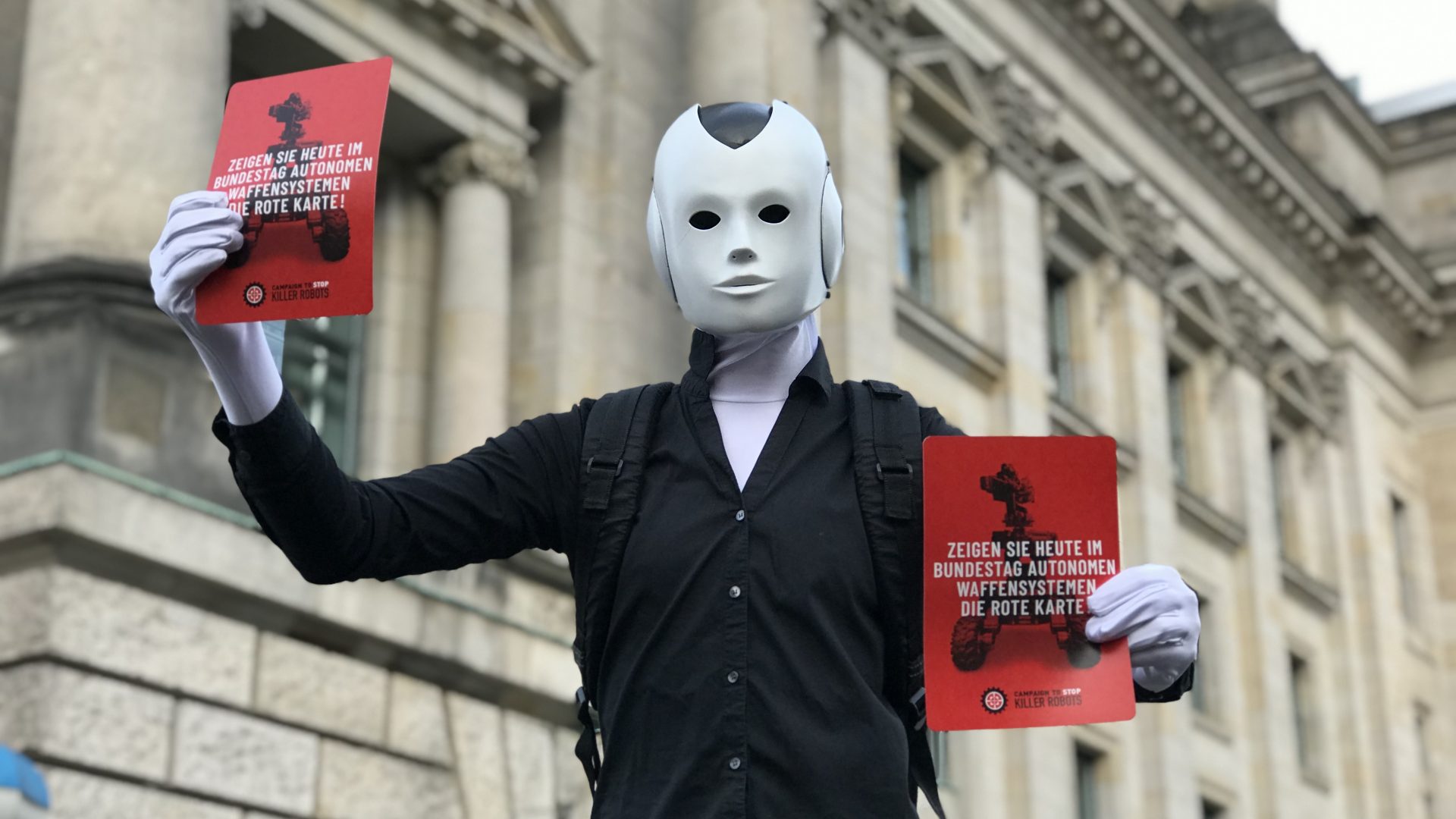 Digital diplomacy begins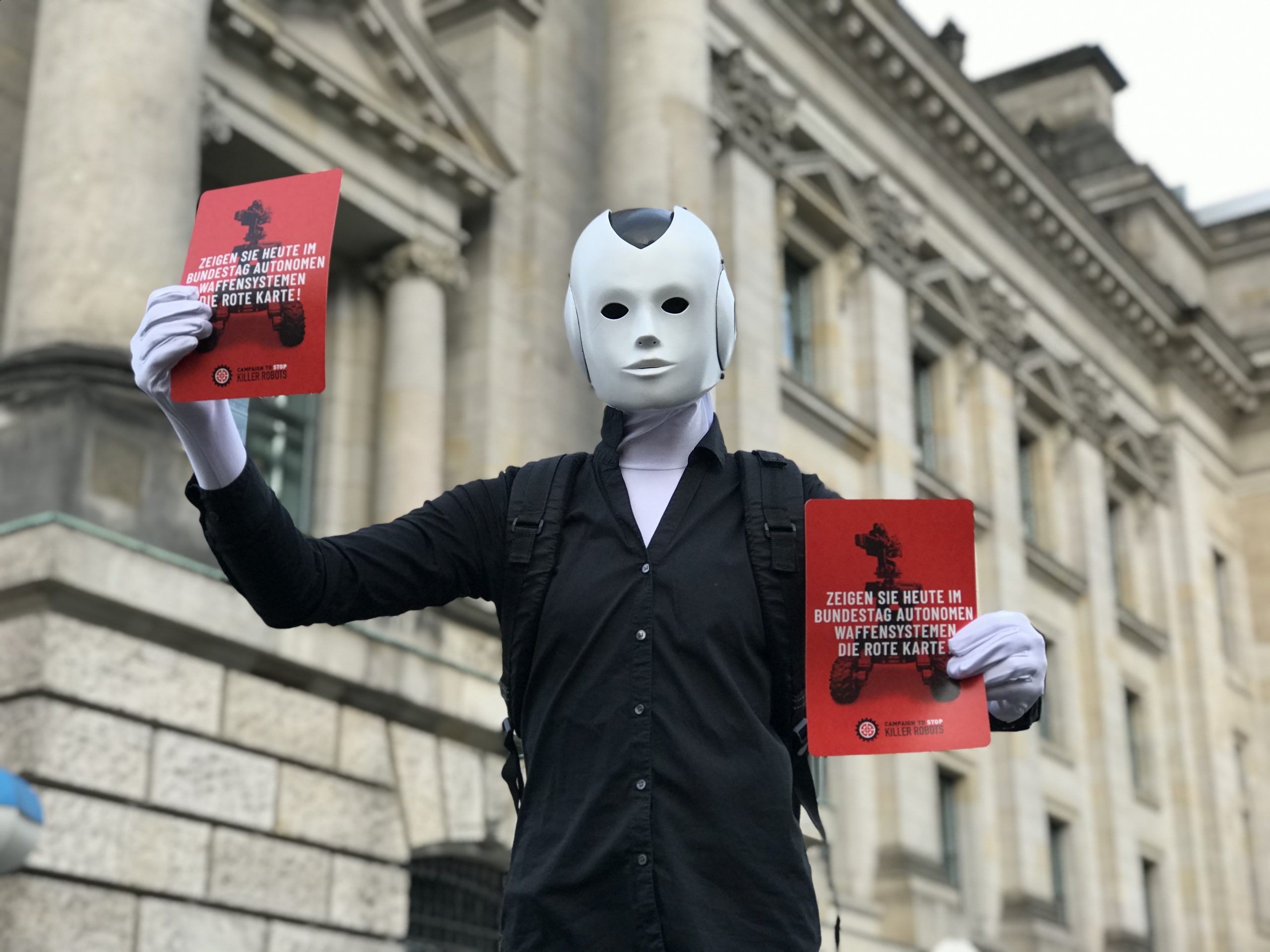 The Campaign to Stop Killer Robots participated in a webcast version of the Berlin Forum on Lethal Autonomous Weapons Systems on 1-2 April. The original face-to-face meeting for government representatives and non-governmental organizations was initially cancelled due to the rapid spread of the Coronavirus (Covid-19).
Germany's foreign ministry decided to hold the Forum online "to keep up the momentum" and "provide food for thought" for the next Convention on Conventional Weapons (CCW) meetings on lethal autonomous weapons systems in June. More than 450 people participated in the digital meeting, representing 63 countries, various institutions and the Campaign to Stop Killer Robots.
Ultimately the Berlin Forum helps lay the collective groundwork for the international treaty that many now regard as essential to protect humanity from the serious challenges raised by removing meaningful human control from the use of force. The Forum explored how to define "the human role in the use of lethal force" and also focuses on the "normative and operational framework" necessary to deal with the killer robots challenge. 
In opening the Berlin Forum, German foreign minister Heiko Maas said that lethal autonomous weapons systems are "a red line we should never cross" because "letting machines decide over life and death of human beings goes against ethical standards and undermines human dignity." In her remarks, United Nations disarmament chief Izumi Nakamitsu reiterated the UN Secretary-General's strong desire for states to negotiate a new international treaty to ban such weapons, which he views as "morally repugnant and politically unacceptable."
Bonnie Docherty of Human Rights Watch and the Harvard Law School International Human Rights Clinic addressed the Forum on 2 April, presenting a November 2019 briefing paper that she authored for the Campaign. The paper demonstrate the feasibility of developing a new legally-binding instrument and provides a starting point for further discussion. 
The Campaign's paper proposes three core obligations:
A general obligation to maintain meaningful human control over the use of force;
Prohibitions (i.e., negative obligations) on weapons systems that select and engage targets and by their nature pose fundamental moral or legal problems; and
Specific positive obligations to help ensure that meaningful human control is maintained in the use of all other systems that select and engage targets.
Ambassador Janis Karklins of Latvia is chairing the CCW's 2020 Group of Governmental Experts (GGE) on killer robots on 22-26 June and 10-14 August.
The CCW's Sixth Review Conference in December 2021 is widely regarded as the "make-or-break" moment for achieving progress in this forum. After considering killer robots concerns since 2014, CCW states have committed to develop a "normative framework" on killer robots by the 2021 Review Conference, but that goal is convoluted, and the end product is ambiguous.
The Campaign is urging states to seize initiative and work together for an international treaty to ban fully autonomous weapons and retain meaningful human control over the use of force. Such a treaty could be achieved at the CCW, but Russia and the United States strenuously oppose negotiating a legally-binding instrument. Therefore political leadership is urgently needed. Canadian Prime Minister Justin Trudeau instructed his foreign minister in December 2019 to seek an international treaty to ban fully autonomous weapons. This year, campaigners have met with defense and/or foreign ministers from Argentina, Austria, Finland, Norway, and other nations to urge action against killer robots;  
The Berlin Forum follows the Rio Symposium on Autonomous Weapons Systems held by Brazil on 19-20 February 2020. Japan's foreign ministry plans to convene a regional meeting on human control and autonomous weapons on 2-3 December 2020. Austria's foreign minister has announced a major international meeting on killer robots in Vienna in February 2021.
The Covid-19 pandemic is an unexpected development that threatens the lives of millions of people. This defining worldwide event could provide the impetus for more coordinated and substantive multilateral efforts to deal with the dangers that certain threats pose to humanity. It should affirm the urgent need for international legal frameworks such as a treaty to ban fully autonomous weapons.  
In response to Covid-19, the Campaign to Stop Killer Robots is adjusting its plans and stepping-up advocacy activities that do not require travel and face-to-face contact, such as correspondence with political leaders, participation in digital consultations, and submissions to parliaments and other fora.
Germany's foreign ministry is compiling some key points from the Forum into a "Chair's Summary" paper. It intends to hold a follow-up conference on 6 November 2020, in advance of the4 CCW's annual meeting on 11-13 November.
For more information, see:
PHOTO: Robot Artist from Berlin supporting the Campaign to Stop Killer Robots.