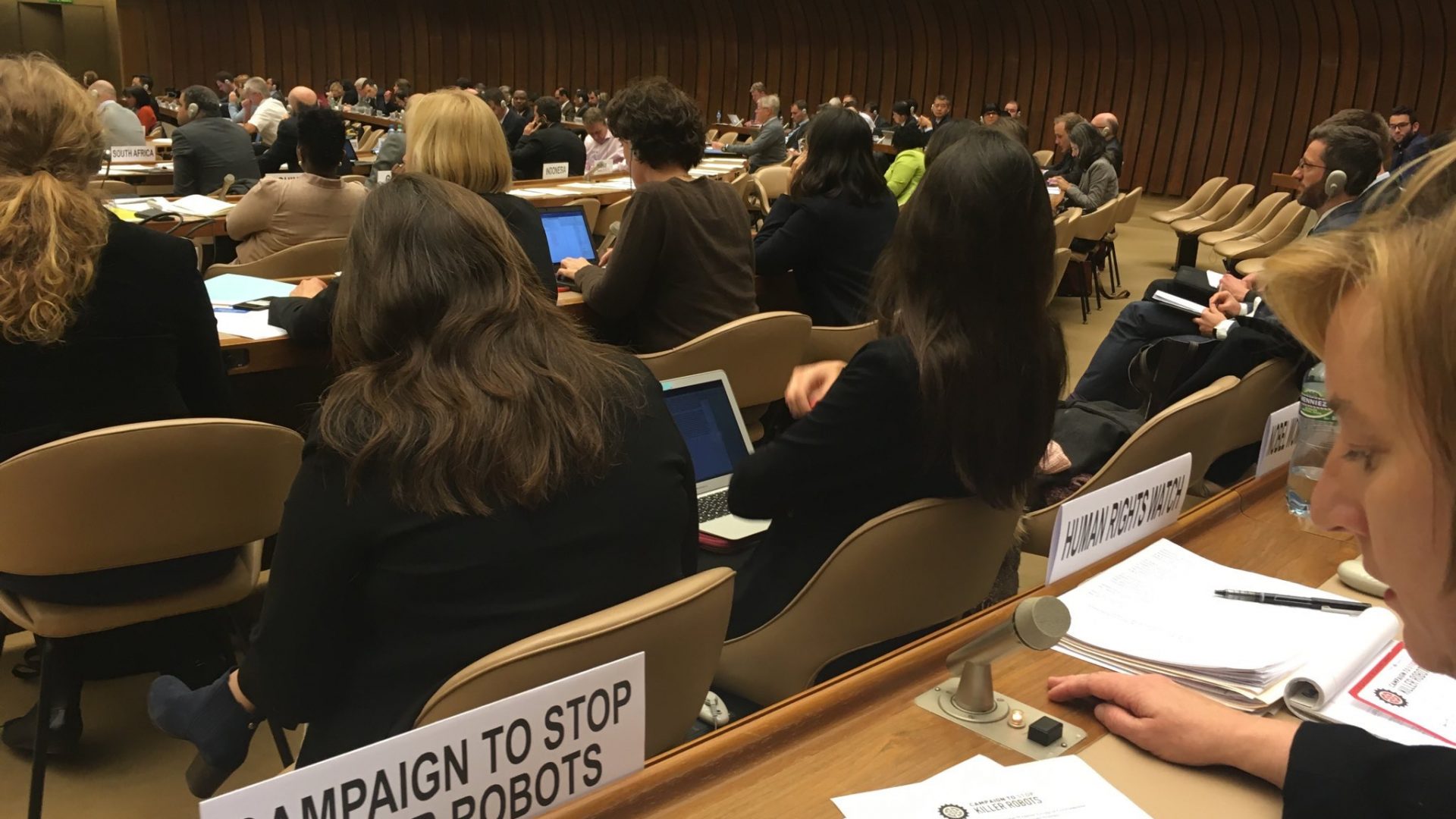 Unambitious process on killer robots to continue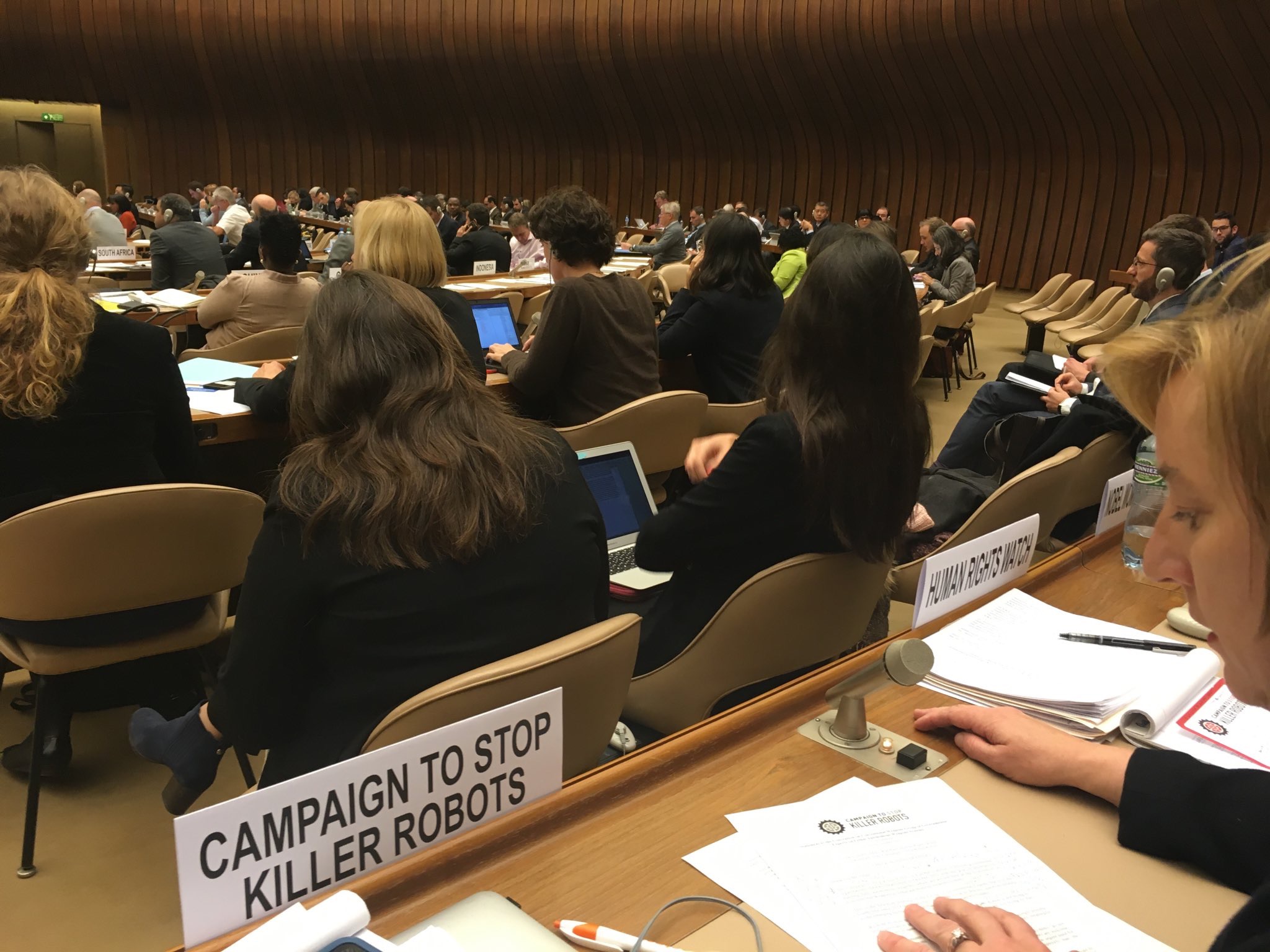 The Campaign to Stop Killer Robots welcomes the decision taken by 91 states at the annual meeting of the Convention on Conventional Weapons in Geneva today to continue formal deliberations on "lethal autonomous weapons systems" next year, but criticizes the lack of ambition in addressing mounting concerns over these weapons systems.
The global coalition of non-governmental organizations remains disappointed that all countries seem able to do is roll-over the previously agreed mandate and meet for just 10 days during 2018. This decision does not reflect a sense of urgency and it is unclear if the period of time dedicated will be sufficient to make significant progress on this issue.
The Campaign to Stop Killer Robots believes that this process should pave the way to international negotiations on a legally binding instrument. States at the CCW should agree to a formal negotiating mandate at the end of next year and then work conclude a new protocol by the end of 2019 – a protocol that bans the development, production, and use of fully autonomous weapons.
It also strongly urge states at the CCW to focus and work towards a specific objective as their plan to develop "options" is unambitious and the options are clear. At last week's meeting of the Group of Governmental Experts, most states expressed their desire to move swiftly to develop new international law on fully autonomous weapons.
Moreover, at least 22 states now want that legally binding instrument to prohibit these weapons, with Brazil, Iraq, and Uganda added to this list last week.
Ambassador Amandeep Singh Gill of India will continue as chair of the convention's deliberations on killer robots next year, which will be divided into two week-long meetings. Next year–dependent on the availability of funds–states will convene for the first meeting of the Group of Governmental Experts on 9-13 April or 27-31 August and for a second meeting on 27-31 August or 12-16 November, before the CCW's annual meeting on 21-23 November.
Nearly all states that have spoken on this topic accept that some form of human control must be maintained over weapons systems. The campaign seeks to prohibit weapons that would select and attack targets without further human intervention. It encourages states to make explicit where they draw the line on increasing autonomy in weapon systems.
Political declarations, codes of conduct, and other measures fall far short of what is needed to address the multiple and serious ethical, legal, operational, technical challenges raised by these weapons systems. Some of these steps presuppose that fully autonomous weapons will be developed and that sends the wrong message.
From the officials, parliamentarians, artificial intelligence experts and roboticists, celebrities, journalists, activists, and ordinary people following the deliberations in Geneva it is abundantly clear that the world is watching the diplomatic process with great interest and growing concern. Expectations are running high that the killer robots challenge will be confronted before it is too late. There is no time or money to waste on inconclusive deliberations.