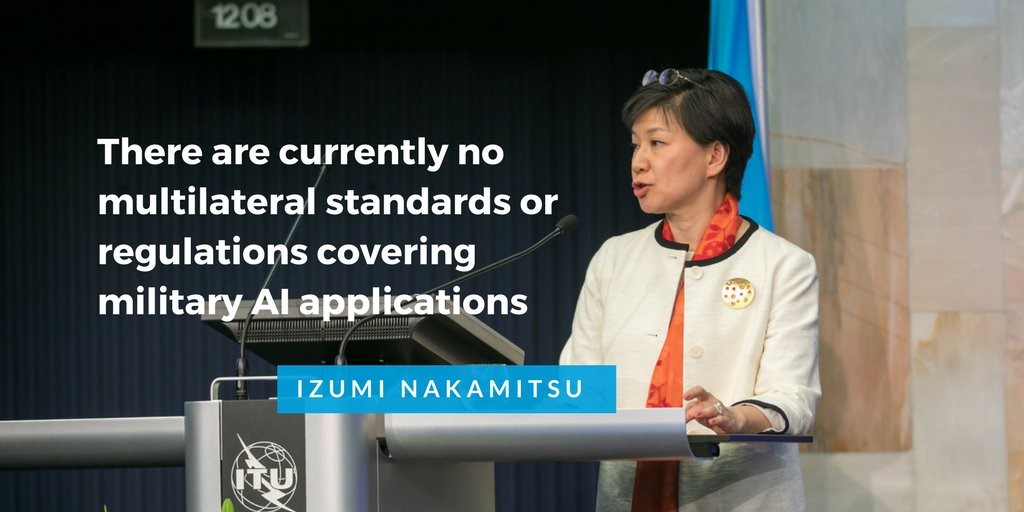 Concern from the United Nations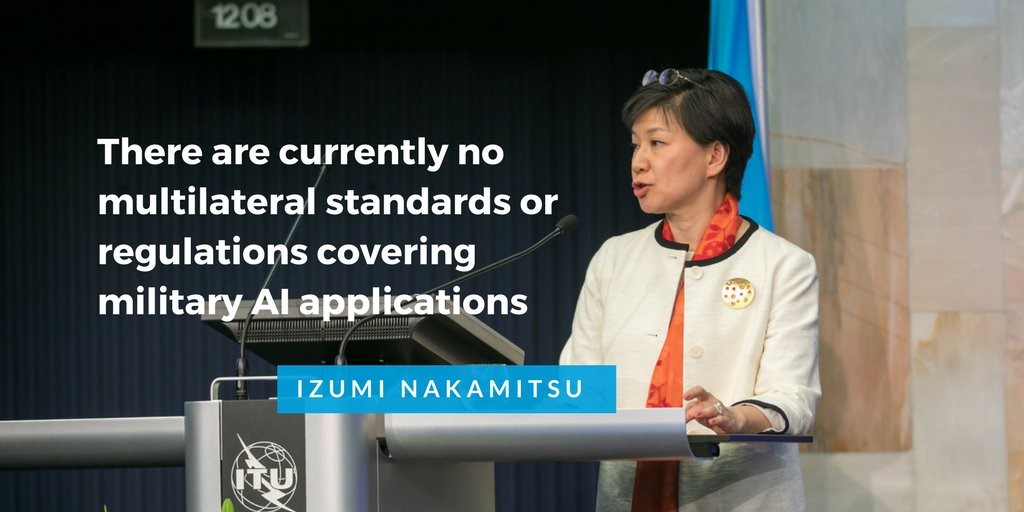 The United Nations says it is "closely following developments related to the prospect of weapons systems that can autonomously select and engage targets, with concern that technological developments may outpace normative deliberations." It expresses hope that UN member states "make meaningful progress toward a shared understanding on how to ensure the core values of the international community are safeguarded in this context."
That's according to a 22 May 2017 letter sent to the Campaign to Stop Killer Robots by the new Under Secretary-General High Representative for Disarmament Affairs, Izumi Nakamitsu, on behalf of the new UN Secretary-General, António Guterres. Guterres began his term on 1 January 2017, while Nakamitsu became the new UN disarmament chief on 1 May after working for the UN in humanitarian assistance and peacekeeping.
Nakamitsu first elaborated the UN's "fundamental concerns" over killer robots in an address to the high-level "Artificial Intelligence for Good" summit convened by the International Telecommunication Union (ITU) in Geneva on 7 June. The six-page statement finds that fully autonomous weapon systems raise serious questions, including over their potential impact on international peace and security, the implications for global norms and mechanisms governing warfare, likely proliferation, and possibility they will be "sought after by unscrupulous actors with malicious intent."
Under the heading of "What can we do?" the UN disarmament chief finds "there are currently no multilateral standards or regulations covering military AI applications." She expresses the UN's support for the process to discuss lethal autonomous weapons at the Convention on Conventional Weapons (CCW) in Geneva. Nakamitsu says that states should decide "what they consider to be the acceptable degree of human control over the lethal functions of a weapon system, and whether a specific international treaty or instrument is required to ensure that control is maintained."
However, the CCW process on killer robots is faltering and will not convene until November 2017 at the earliest, more than a year after the last substantive talks on the topic. A crucial week of formal discussions on killer robots that was due to take place in Geneva in April 2017 and then rescheduled to August has been cancelled because several states, most notably Brazil, failed to pay their dues for the convention's meetings.
The Campaign to Stop Killer Robots strongly regrets this development and is working with Brazil and others to help resolve it so that the CCW process can continue. At this time, the campaign is intensifying its outreach in national capitals to check on the status of policy development and encourage legislative initiatives to ban fully autonomous weapons. The campaign aims to engage at the regional level to build awareness and support for a collective response and it continues to explore other avenues that could lead states to adopt a new international instrument to retain meaningful human control over the critical functions of weapons systems.
Both the UN's letter and statement call for "inclusive and comprehensive dialogue" on the concerns posed by lethal autonomous weapons systems. Nakamitsu recommends a "multi-sectoral and multi-stakeholder exchange" between governments and "civil society activists, the scientific community and the private sector." She views "human dignity and human security" as "essential" elements or principles to guide discussion, including the development of "human-centred norms."
On 29 June 2017, Nakamitsu met with Campaign to Stop Killer Robots representatives Nobel Peace Laureate Jody Williams and Mary Wareham of Human Rights Watch in New York, where they discussed the revolutionary nature of fully autonomous weapons and paradigm shift they constitute for the conduct of warfare in future.
The UN letter was in response to March correspondence from the campaign. Since its launch in 2013 the campaign has engaged in regular dialogue with the UN disarmament chief, including previous representatives Angela Kane (until 2015) and then Kim Won-soo (until 2017)
In his remarks to the AI for Good summit, the Secretary-General of campaign co-founder Amnesty International, Salil Shetty, reiterated the urgent need for a pre-emptive ban on fully autonomous weapons.