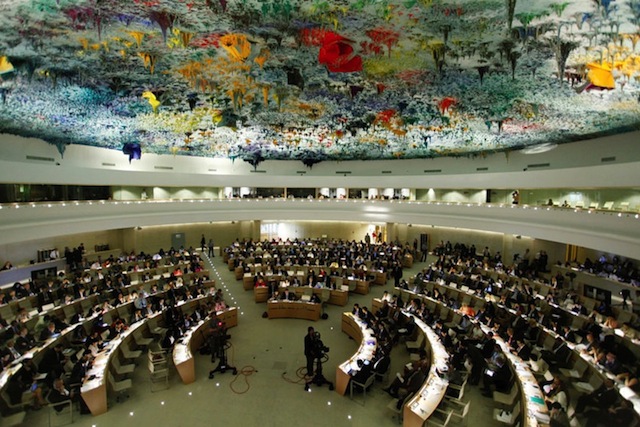 UN report on lethal autonomous robotics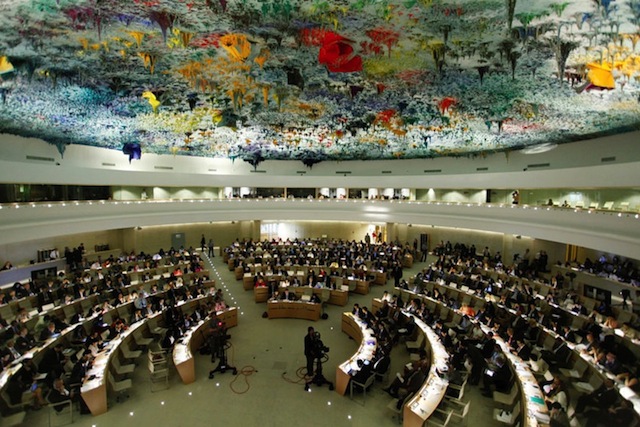 The United Nations (UN) report calling for a global moratorium on lethal autonomous robotics, weapons systems that can select and kill targets without a human being directly issuing a command, will be considered this week in Geneva. The report is due to be presented to the UN Human Rights Council during the afternoon of Wednesday, May 29 by its author Professor Christof Heyns, the UN Special Rapporteur on extrajudicial, summary or arbitrary executions for the Office of the High Commissioner for Human Rights. The presentation will be followed by a debate where–for the first time-ever in a multilateral forum–governments will provide their views on the question of what to do about fully autonomous weapons.

The Campaign to Stop Killer Robots welcomes the UN expert report and concurs with its finding that lethal autonomous robotics "raise far-reaching concerns about the protection of life during war and peace. This includes the question of the extent to which they can be programmed to comply with the requirements of international humanitarian law and the standards protecting life under international human rights law. Beyond this, their deployment may be unacceptable because no adequate system of legal accountability can be devised, and because robots should not have the power of life and death over human beings."
We urge all countries to consider and publicly elaborate their policy on fully autonomous weapons, particularly with respect to ethical, legal, policy, technical, and other concerns that have been raised in the Heyns report.
The Campaign to Stop Killer Robots calls on all countries to welcome the Heyns report and endorse and implement its recommendations that call on all states to:
Put in place a national moratorium on lethal autonomous robotics. (Paragraph 118)
Declare a commitment to abide by International Humanitarian Law and international human rights law in all activities surrounding robotic weapons, and put in place and implement rigorous processes to ensure compliance at all stages of development. This should be done both unilaterally and through multilateral fora. (Paragraph 119)
Commit to being as transparent as possible about internal weapons review processes, including metrics used to test robotic systems. States should, at a minimum, provide the international community with transparency regarding the processes they follow (if not the substantive outcomes) and commit to making the reviews as robust as possible. (Paragraph 120)
Participate in international debate on lethal autonomous robotics and be prepared to exchange best practices with other States, and collaborate with the High Level Panel on lethal autonomous robotics. (Paragraph 121)
The Campaign to Stop Killer Robots commits to implement the report's recommendations to NGOs, namely to:
Raise awareness about the issue and consider the implications of lethal autonomous robotics for human rights and for those in situations of armed conflict. (Paragraph 123)
Assist and engage with States wherever possible in aligning their relevant procedures and activities with International Humanitarian Law and international human rights law.(Paragraph 124)
Urge States to be as transparent as possible in respect of their weapons review processes.(Paragraph 125)
Support the work of the High Level Panel on Lethal Autonomous Robotics.(Paragraph 126)
After Professor Heyns presents the report to the Human Rights Council there will be an "interactive dialogue" during which states can make brief (less than 5-minute) statements to provide their views on the report. Campaigners around the world have been urging governments to support the report and implement the recommendations, including in Austria, Canada, Colombia, Germany, Ireland, Italy, Netherlands, New Zealand, Norway, Pakistan, Spain, Sweden, United Kingdom, and the United States.
The 22-page report by Professor Heyns, a South African lawyer, has attracted significant media interest and has stimulated public interest since it was uploaded to the Human Rights Council website of the at the end of April.
On Tuesday 28 May, representatives of the Campaign to Stop Killer Robots will speak at a midday press conference, and in an afternoon side event, Mr. Steve Goose of Human Rights Watch and Dr. Peter Asaro of the International Committee for Robot Arms Control will present the coalition's views on the UN report and discuss its expectations for action by governments and others.
For more information, see:
Selected coverage of the UN report:
"United Nations the next stop for killer robots" by the Ministry for Disarmament, 28 April 2013.
"Activists, UN put 'killer robots' in the crosshairs" by Nidhi Subbaraman, NBC Future Tech, 29 April 2013.
"'The Point of No Return': Should Robots Be Able to Decide to Kill You On Their Own?" by John Knefel, Rolling Stone, 30 April 2013.
"UN report wants moratorium on killer robots" Associated Press, 2 May 2013.
"U.N. investigator seeks world moratorium on 'killer robots'" by Stephanie Nebehay, Reuters, 23 May 2013.
"Demand Grows for Global Ban on 'Killer Robots'" by Henry Ridgwell, Voice of America, 24 May 2013.