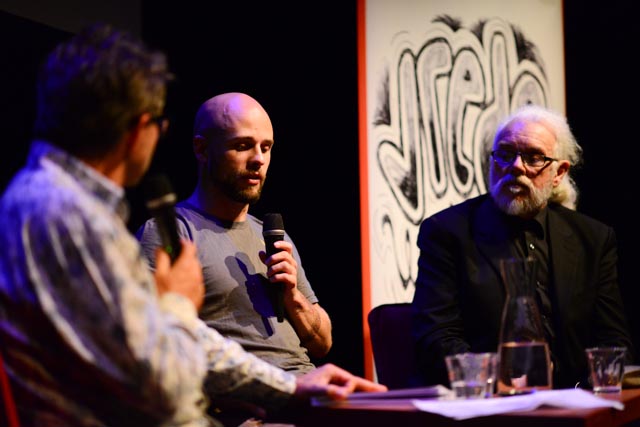 Public outreach in the Netherlands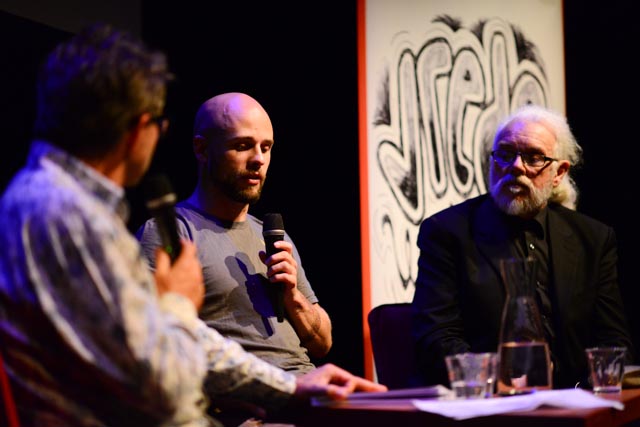 Concerns over killer robots and armed drones were at the forefront of a "Night of Peace" or "De Nacht van de Vrede" event convened by Dutch non-governmental organization PAX in Amsterdam on 24 September, which featured talks by international speakers including a drone operator and roboticist. More than 350 people participated in the 2014 "Night of Peace" held at "De Balie" in the center of Amsterdam in cooperation with the Dutch Red Cross and Amnesty International Netherlands. The event featured a debate, panel discussions, film screenings, a quiz, and networking opportunities. Since 1967, PAX (formerly IKV Pax Christi) has organized Peace week activities (around the International Day of Peace (21 September) in many different parts of the Netherlands.
Brandon Bryant, 28, spoke in the late night presentation about his work for the US armed drone program, where he spent five years at US Air Force bases in Nevada and New Mexico operating the camera for drone pilots. His squadron was credited with killing 1,626 combatants during the period that he served and he personally witnessed 13 people die in drone attacks. Bryant has been diagnosed with post-traumatic stress disorder and suffers from insomnia, depression and nightmares three years after participating in his last mission. He recommended much stricter regulation, transparency, and restraint in the use of armed drones.
Professor Noel Sharkey, chair of the International Committee for Robot Arms Control (ICRAC), a co-founder of the Campaign to Stop Killer Robots described the technological trend toward ever-greater autonomy in weapons systems as shown with the use of drones that are remotely-piloted by a human. He explained how ICRAC came together with PAX and other NGOs to form the global coalition due to their common concern at the prospect that targeting and kill decisions will shift from human control to autonomous machines on the battlefield and in law enforcement.
The notion of fully autonomous weapons was first raised in the Dutch parliament in December 2013 and has been discussed by government agencies, academics, and civil society. Prior to the "Night of Peace" Sharkey and Miriam Struyk from PAX met with officials at the Ministry of Foreign Affairs and Ministry of Defence to discuss the need for a national policy on fully autonomous weapons as well as further international debate, including on the question of how to ensure "meaningful" human control of autonomous weapons systems. The issue is still under discussion at the Ministries and more information on how the view of the ministries will be shared with Dutch parliament later this year.
The Netherlands warned that "the possible development of lethal autonomous robot systems raises many legal, ethical and policy questions" when it first spoke on the matter at the United Nations last October. It committed to "participate actively" in discussions on the weapons and supported the successful proposal for the Convention on Conventional Weapons (CCW) to hold an expert meeting in May 2014. At the CCW experts meeting, the Netherlands said the "core of the matter" concerns a weapons system that once activated can select and engage targets without human supervision or intervention. It said there are many questions on such weapons and urged further substantive discussion, particularly on the notion of meaningful human control, ethical aspects, and weapons reviews.
The Netherlands and Switzerland are supporting a project by the United Nations Institute for Disarmament Research (UNIDIR) that is looking at the weaponization of increasingly autonomous technologies and its implications.
Based in Utrecht, PAX is a co-founder of the Campaign to Stop Killer Robots and in February published a report listing eight objections to fully autonomous weapons. Its short animated film (available in English, Dutch, Japanese and German) outlining concerns over killer robots and the call for a preemptive ban on the weapons has been viewed more than 2,500 times. PAX is currently collecting signatures for an interfaith declaration on autonomous weapons.
The visit by Sharkey and Bryant was covered by national and regional media, as well as to Belgium's national television network and journalism students from Amsterdam University. The high level of interest shows there is a deep concern over the trend towards autonomy in warfare, which is still a relatively unknown topic in the Netherlands, but public events and media coverage are helping to fill that gap.
For more information, see the PAX website.