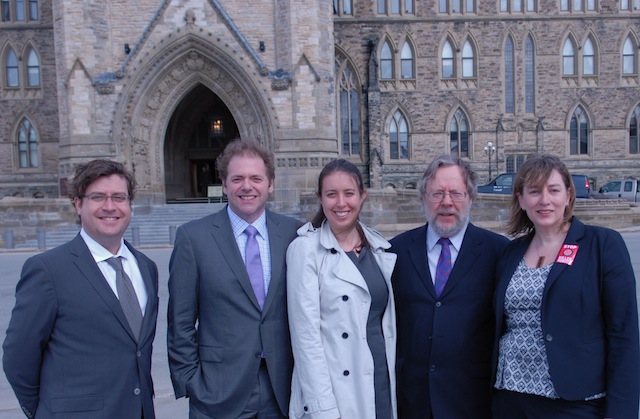 Outreach in Ottawa, Canada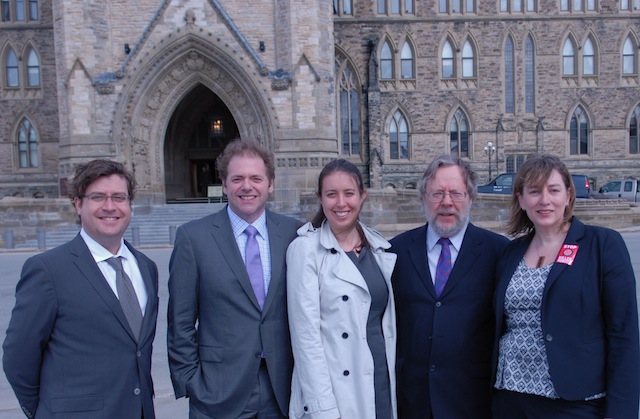 Members of the Campaign to Stop Killer Robots this week called on the government of Canada to support the creation of new international law to pre-emptive ban fully autonomous weapons or 'killer robots' as part of a new outreach effort by Mines Action Canada, a co-founder of the global Campaign to Stop Killer Robots.
Mines Action Canada's Erin Hunt urged the Canadian government to "take action now to ensure that international law is strengthened and future-proofed against these technological developments" in a press release. Executive director Paul Hannon recalled Canada's leadership on landmines that resulted in the adoption of the 1997 Mine Ban or "Ottawa" Treaty, warning, we "cannot afford to wait until we have another global catastrophe to deal with problematic weapon systems."
Mines Action Canada organized a series of outreach events in the Canadian capital of Ottawa on 28-29 April 2014, including a parliamentary breakfast briefing, a national press briefing, a public talk, and a meeting of Ottawa-based non-governmental organizations (NGOs) to increase awareness and encourage Canadian support for the goal of a preemptive ban on killer robots. The events featured Dr. Ian Kerr from the University of Ottawa and Canada Research Chair in Ethics, Law and Technology and Dr. Peter Asaro from the New School. Both individuals are members of the International Committee for Robot Arms Control (ICRAC), a co-founder of the Campaign to Stop Killer Robots. Mary Wareham from Human Rights Watch, global coordinator of the Campaign to Stop Killer Robots, also spoke at the Ottawa events.
Dr. Kerr is co-author of the forthcoming book Robot Law and published an opinion piece in the Ottawa Citizen on 27 April 2014, noting, "the concern is not a robot uprising," but rather "the voluntary relinquishment of human control to machines and the dependencies created." Kerr urged the government of Canada to play its role by participating actively in the emerging international debate over how to tackle fully autonomous weapons.
A representative from Canada's Department of Foreign Affairs, Trade and Development made a couple of brief statements on the topic last November at the United Nations (UN) in Geneva during a meeting of the Convention on Conventional Weapons (CCW), describing fully autonomous weapons as "an emerging issue" that the government is giving "due consideration" to and said it "requires further discussion and thought." Canada supported a proposal for nations to begin addressing the matter and officials have confirmed that Canada will participate in the first CCW experts meeting on "lethal autonomous weapons systems" next month at the UN in Geneva.
Directors from Campaign to Stop Killer Robots co-founders the Nobel Women's Initiative and Pugwash Conferences on Science and World Affairs (Canada) participated in the Ottawa events this week as did representatives from Amnesty International Canada, Mennonite Central Committee Canada, the Rideau Institute, others NGOs, and the Canadian Red Cross.
A 30-minute briefing by campaign representatives for members of the Canadian parliament's press corps resulted in national coverage via The Canadian Press (including in French), Ottawa Citizen, and Ottawa Sun. A video extract from the is available online and available below.
Mines Action Canada has created an online petition to Keep Killer Robots Fiction, which calls on the Government of Canada to immediately prohibit the development and deployment of fully autonomous weapons in Canada and to support efforts to create a pre-emptive global ban on the technology.
For more information, please see: