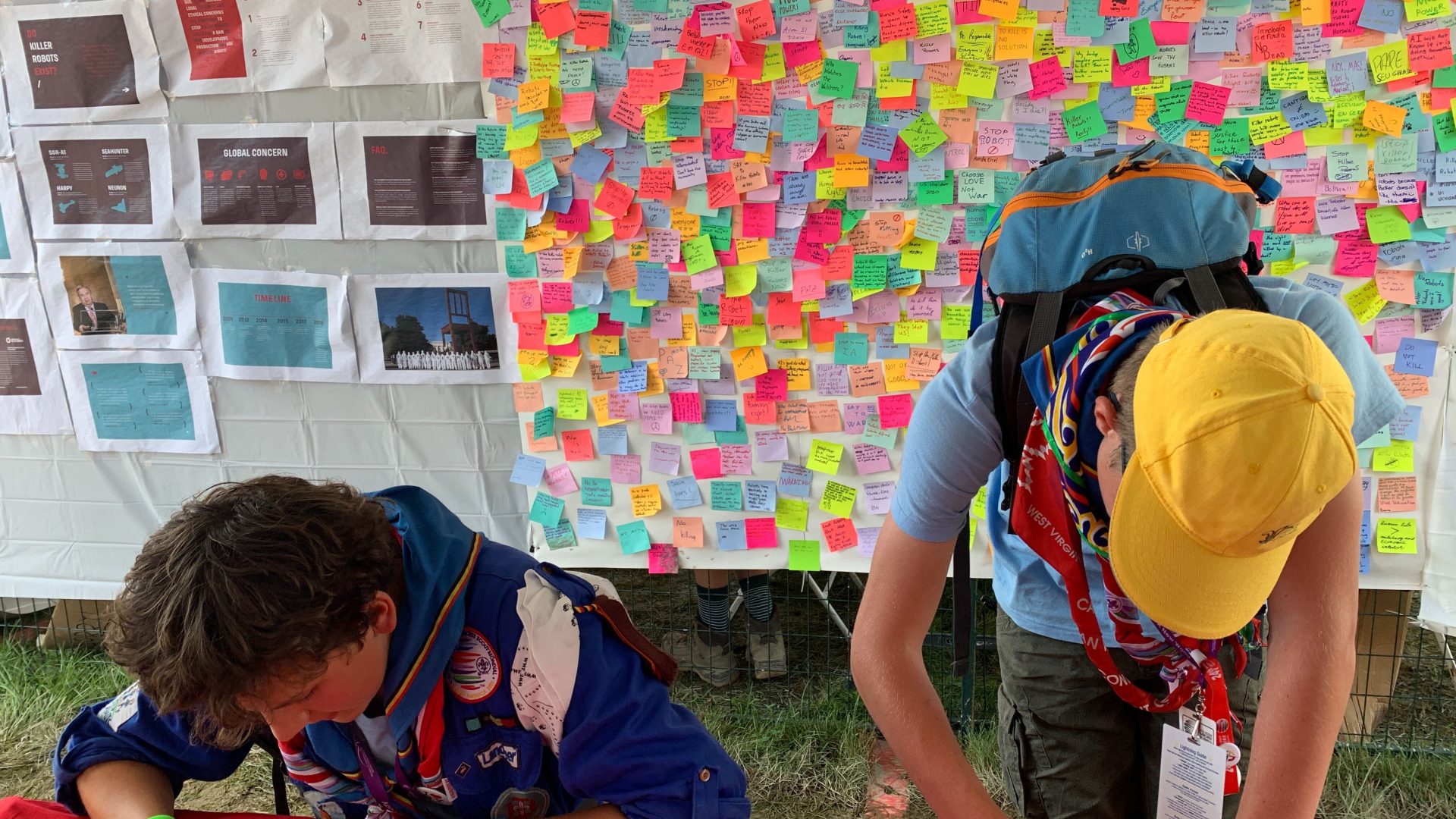 Scouts, welcome to #TeamHuman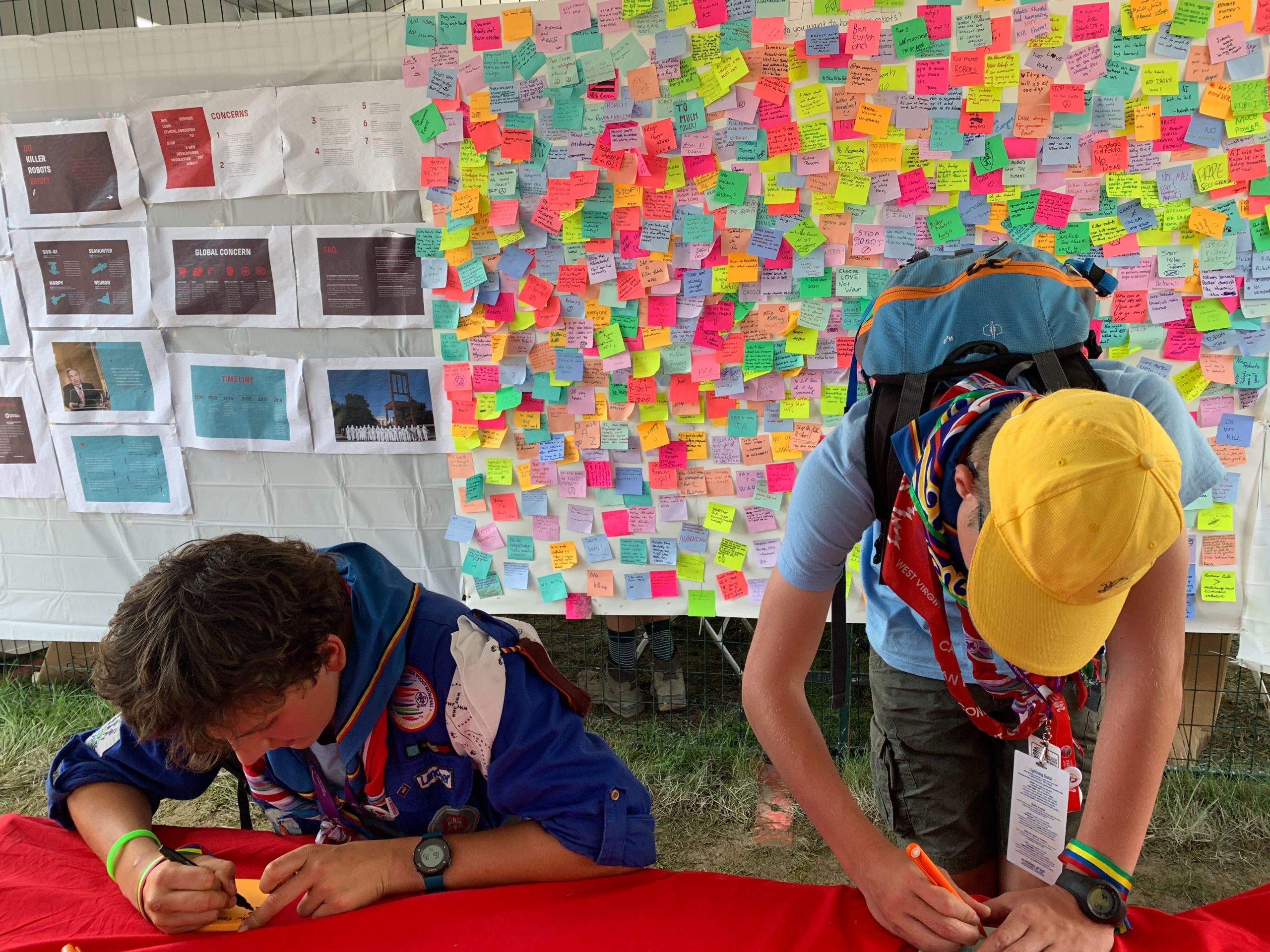 "What is a killer robot?" The refrain was heard over and over again at the edge of a small tent in the middle of West Virginia. As thousands of feet trampled down a path at the Summit Bechtel Scout Reserve, eager for the next adventure, heads turned to peer closer at bright red flags flapping against a clear, blue sky. 
We certainly stuck out. Amidst canoeing and hiking, paddle boarding and scuba diving, zip lining and BMX biking, the Campaign to Stop Killer Robots tent at the 24th World Scout Jamboree held its own as a one of a kind experience.
The World Scout Jamboree is an official educational event of the World Organization of the Scout Movement (WOSM), which takes place every four years and brings together Scouts ages 14 to 17 years old from National Scout Organizations (NSOs) around the world. Held from 23 July to 2 August, this year the Jamboree brought together more than 40,000 young people from 169 countries – making it the second biggest city in West Virginia for the two weeks it ran.
For the first time, the Campaign to Stop Killer Robots participated in the Jamboree as a partner in the Global Development Village (GDV) – an interactive space within the Jamboree where Scouts can learn about current global issues, how they can take action, and ways to show commitment for 'Creating a Better World'.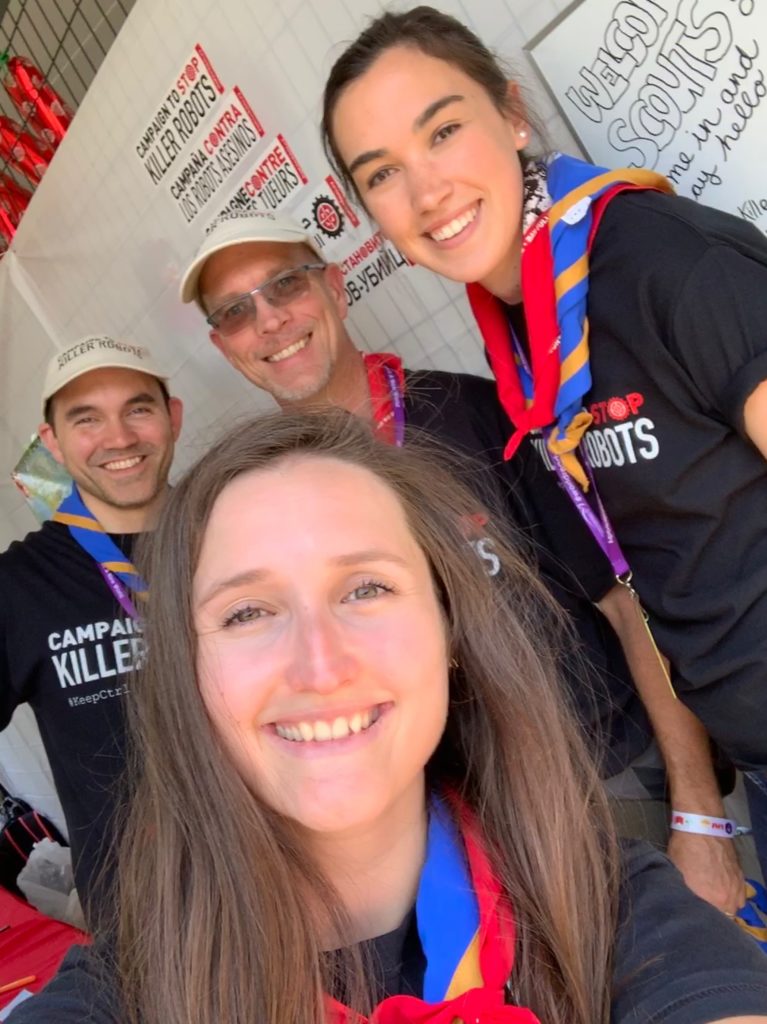 For 12 days, a small team of Campaign to Stop Killer Robots staff, members, and volunteers welcomed crowds to an exhibition booth where Scouts learned about killer robots and shared their ideas for how to create a #KillerRobotsFreeWorld. Every day hundreds of Scouts walked through the booth, adding their thoughts to the popular 'Idea Wall', and raising awareness about autonomous weapons with their family and friends over social media.
Check out all the action by following @stopkillerrobots on Instagram and exploring our #ScoutJamboree story highlights.
For those Scouts who wanted to learn more, the Campaign also ran hour-long workshops twice-daily, digging deeper into the Campaign's concerns with fully autonomous weapons and unpacking the importance of meaningful human control over the use of force. Over the course of two weeks, hundreds of Scouts participated in our workshops, earning the limited first edition (and highly coveted) 'Scouts against Killer Robots' Badge. Their energy and enthusiasm was palpable and inspirational.
The Campaign to Stop Killer Robots was thrilled to have the opportunity to introduce Scouts, their troop leaders, the leadership of the World Organization of the Scout Movement (WOSM), and 20,000+ day visitors to the issue of killer robots – building awareness of the Campaign, support for an international ban, and the foundations for future partnerships with national Scout organisations. These young leaders are taught to think globally, and act locally. All Scouts can take steps locally to support and contribute to international peace, and prevent a future of autonomous weapons. And The Campaign needs Scouts to make their voices heard as young leaders working to make the world a better place.
Scouts, welcome to #TeamHuman.