Our Top 5 moments of 2022
Out of the 525,600 minutes in 2022, Stop Killer Robots didn't waste a single one!
From the premiere of our very own documentary Immoral Code to the first-ever joint statement on autonomous weapons at the UN General Assembly, 2022 was a year of immense progress in the movement to ensure human control in the use of force.
As we reflect on our 2022 wins, 2023 looks like it's shaping up to be even bigger yet!
In no particular order, here are some of our favorite moments from 2022…
#1. The Digital Dehumanisation campaign

We launched our Digital Dehumanisation campaign! Join us over the next few months, as we chat with a host of interesting people to get to grips with Digital Dehumanisation: what it is, what it means for you and the world as a whole, and how we can take a stand against it.
First up, was this fantastic conversation with Dr. Catherine Connolly about digital dehumanisation and autonomous weapons☝️ Coming soon, robots in the age of digital surveillance…what are the realities of smart home technologies and killer robots?
#2. Joint statement at the UNGA
For the first time at the UN General Assembly, states across the world united in delivering a joint statement on autonomous weapons systems. With a total of 70 states joining, this was the largest cross-regional group statement ever made throughout UN discussions on the issue. That's a lot of flag emojis! 🇦🇱 🇦🇷 🇦🇹 🇦🇺 🇧🇪 🇧🇴 🇧🇬 🇨🇦 🇨🇴 🇨🇩 🇨🇷 🇨🇱 🇭🇷 🇫🇯 🇨🇾 🇨🇿 🇩🇰 🇩🇴 🇪🇨 🇸🇻 🇪🇪 🇫🇮 🇫🇷 🇩🇪 🇬🇪 🇬🇷 🇬🇹 🇭🇳 🇭🇺 🇮🇸 🇮🇪 🇮🇹 🇯🇵 🇰🇿 🇰🇮 🇰🇷 🇱🇻 🇱🇧 🇱🇸 🇱🇮 🇱🇹 🇱🇺 🇲🇹 🇲🇽 🇲🇩 🇲🇨 🇲🇳 🇲🇪 🇳🇦 🇳🇱 🇳🇿 🇳🇴 🇵🇪 🇵🇭 🇵🇹 🇷🇴 🇸🇲 🇸🇱 🇸🇰 🇸🇮 🇪🇸 🇱🇰 🇵🇸 🇸🇪 🇨🇭 🇬🇧 🇺🇸 🇺🇾 🇻🇪 🇧🇸
#3. We dropped our online shop!

Just in time for the holiday season, we're super excited to announce our new Stop Killer Robots shop! Check out our website for lots of awesome products that fit all your moods and colors!
View this post on Instagram
100% of the proceeds from this shop go towards our work to stop killer robots… who says we can't all look good doing it?
#4. The launch of the Automated Decision Research Unit 
Automated Decision Research, the monitoring and research team of the Stop Killer Robots campaign, launched its website in September! The ADR team tracks state support for a legally binding instrument on autonomous weapon systems and conducts research and analysis on responses to autonomy and automated decision-making in warfare and wider society. 🤓
Check out their reports, resources, and state positions tracker.
We're excited to announce the website launch of Automated Decision Research, the research and monitoring team of @BanKillerRobots! 📚 #KillerRobots #AutomatedResearch

Check out our website on https://t.co/D47NmkLHLN and watch the video to learn more 👇 pic.twitter.com/vqDC9KhthF

— Automated Decision Research (@AutomatedDR) September 13, 2022
#5. Immoral Code
Back in May, we released Immoral Code, a documentary that contemplates the impact of killer robots in an increasingly automated world.
Over 400 people attended the premiere in London and the film has received over 150,000 views on YouTube since it went online! Campaigners from over 20 countries have hosted their own screenings and subtitles are currently available in 11 languages and counting. We also worked with artists around the world to give us their take on Immoral Code and commissioned some fantastic poster designs that were plastered all over 12 cities across the world.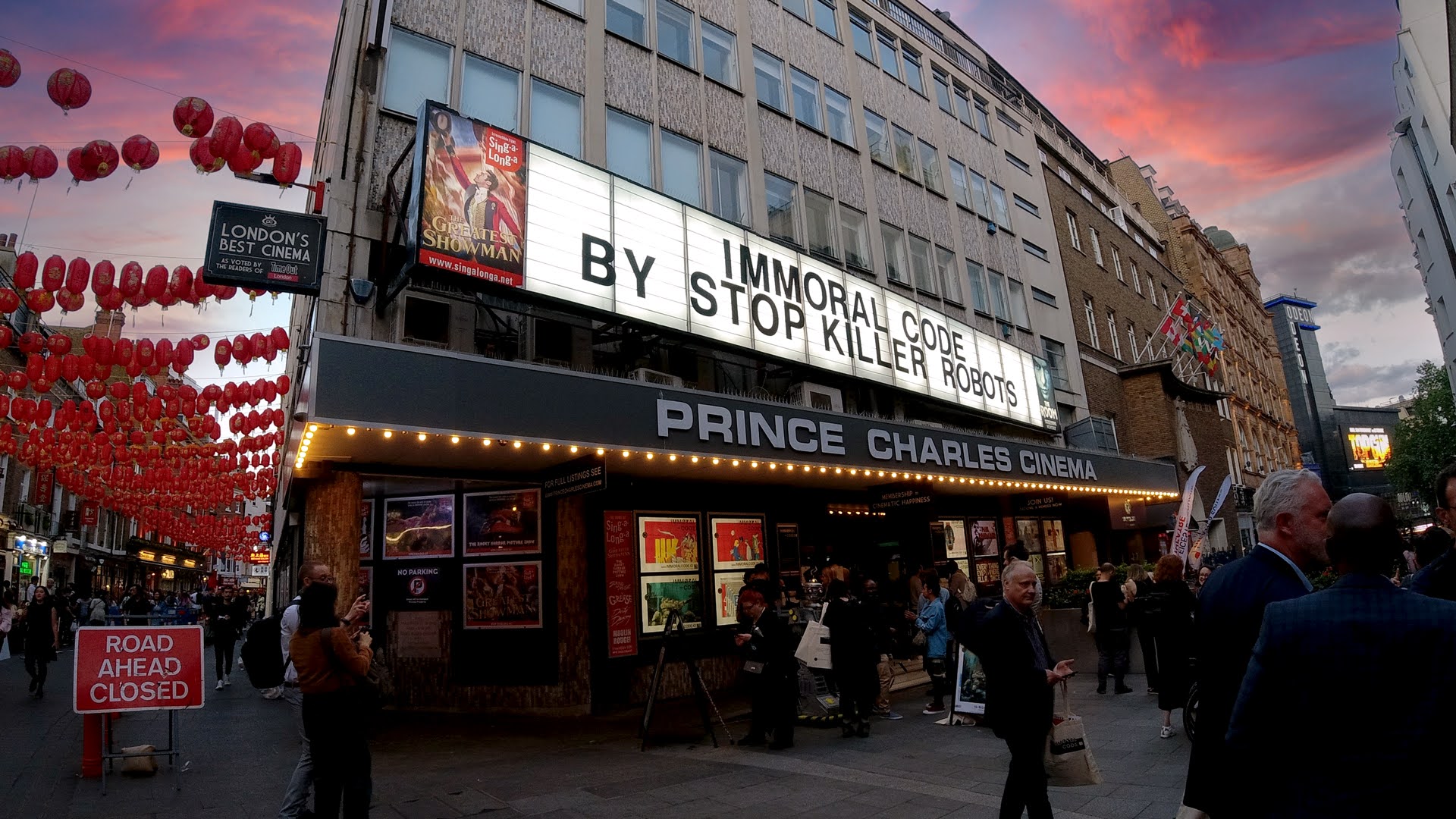 *Bonus moment* #TeamHuman!
Throughout 2022, #TeamHuman signed petitions, lobbied parliamentarians to pledge their support, attended regional and UN meetings, hosted film screenings, tabled at the Sziget music festival, and grew our shared movement to reach even more people across the world.
With a list of accomplishments this great, it's hard to choose a favorite. But if we had to pick… it would have to be YOU! You, our readers, our supporters, our campaigners, our allies, our friends. What an incredible community to be a part of. Thanks for everything! We're gearing up for a great 2023, and thanks to you we can't wait to see what the next year will bring.
---
Exciting things are upon us – the world is watching and we're ready for 2023!