2019 may be bringing the decade to a close, but for movement building within the Campaign to Stop Killer Robots it was only the beginning. This year saw exponential growth within our coalition – in terms of supporters, members, events, and advocacy activities.
Our community of campaigners, activists, peacebuilders, and influencers spans borders, and our accomplishments go far beyond debate within the United Nations. As we come to the end of the year, here's a look at 2019 in numbers – a celebration of our Campaign's activities and accomplishments around the world…
---
140. That's how many member organisations now make up the Campaign to Stop Killer Robots. We are a coalition of national, regional, and international non-governmental organisations and academic partners in 61 countries joined together by our shared belief that we must retain meaningful human control over the use of force by banning fully autonomous weapons. In 2019, our membership doubled, and we're continuing to grow every day.
Do you believe that killer robots cross a moral and ethical red line, and create a legal accountability gap? Do you think that technical development and increasing autonomy in weapons systems is quickly outpacing regulation?  Do you worry that fully autonomous weapons would be unpredictable, unreliable, lack precision and be vulnerable to hacking? Join us! Contact [email protected] to find out how your organisation can become a member of our Campaign.  
---
79 outreach activities were funded in 2019 through the small grants program of the Campaign to Stop Killer Robots. These grants are provided to our members to support their work to educate governments and the public about the urgent need to respond to the serious ethical, legal, operational, technical, and societal challenges raised by the development of fully autonomous weapons. In 2019, of the 79 outreach activities we support, 58 were national campaigning projects, 16 were regional or thematic outreach initiatives, and 5 were regional meetings.

In 2019 58 national campaigning projects were planned in all shapes and sizes: public events, seminars, workshops, training sessions, exhibitions, parliamentary briefings, advocacy meetings with government and opposition leaders, press conferences, stunts, digital toolkits, briefing papers, social media campaigns, and more!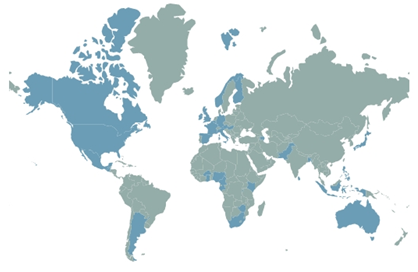 These activities took place in 34 countries around the world: Argentina, Australia, Austria, Azerbaijan, Bangladesh, Belgium, Burkina Faso, Burundi, Cameroon, Canada, Finland, France, Gabon, Germany, Ghana, Guatemala, Hungary, Indonesia, Ireland, Italy, Japan, Kenya, Lebanon, Mexico, Nigeria, Norway, Pakistan, Philippines, South Africa, Spain, Sri Lanka, United Kingdom, United States, and Zimbabwe.

16 regional and thematic outreach initiatives were organized by our members around the world in 2019. These programs and projects amplified our reach and brought new people into our Campaign. Our members and partners conducted outreach to regional bodies like the African Union, Organisation of American States, and Southern African Development Community (SADC); conducted outreach to diplomats and government officials across multiple countries; translated documents and produced materials in multiple languages to be used by campaigners around the world; created connections and capacity within civil society; built meaningful opportunities for women, girls, and non-binary individuals to participate in and lead humanitarian disarmament; expanded the Campaign's base of supporters by engaging youth and the military; and applied a gender-lens and intersectional feminist approach across their work.

5 regional campaign meetings were held across the world in 2019. These meetings bring together campaigners from a particular region to discuss how they can work together to build regional cooperation, both among civil society and states, to ban killer robots. Participants share updates on their national campaigning, states' positions, lessons learned and opportunities for future partnership.
In February, the Tokyo regional meeting brought together campaigners from 10 countries across Asia-Pacific – Bangladesh, Indonesia, Japan, Kazakhstan, Pakistan, Papua New Guinea, Philippines, Republic of Korea, Sri Lanka, and Thailand. They discussed the risks of fully autonomous weapons and affirmed the importance of scientific technology to aim for technological development, AI, and robotics industry for peaceful use; and the necessity to work on formulation of a new treaty to ban development, manufacturing, and usage of fully autonomous weapons by Asia-Pacific region states.
In April, a European regional meeting hosted in Antwerp with participants from Belgium, Ireland, Germany, Finland, Norway, Netherlands, and the United Kingdom discussed various pathways to a treaty banning killer robots, and how to increase European campaigners cooperation to share ideas, experiences, and develop joint actions.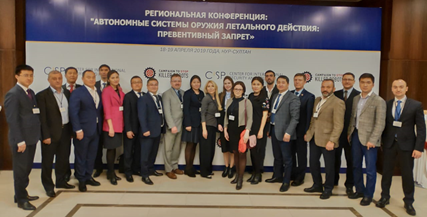 Meanwhile in Nur-Sultan, an April regional meeting for former Soviet states saw representatives of various government agencies and non-governmental organizations from Armenia, Azerbaijan, Belarus, Moldova, Kazakhstan, Kyrgyzstan, Russia and Tajikistan discuss how to increase awareness about fully autonomous weapons systems, and plan how to elaborate national positions of states of the region.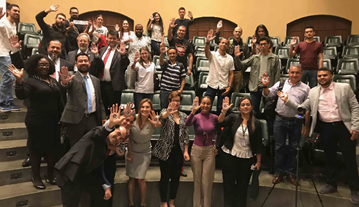 Alongside a meeting of the Organisation of American States (OAS) in June, campaigners from Argentina, Brazil, Canada, Colombia, Guatemala, Mexico, and Trinidad and Tobago met in Medellin for an Americas regional meeting. Discussions ranged from the current status of CCW talks to possible alternative pathways to a treaty, and reviewed the national activity plans for participating campaigners and how to manage support from all of the countries in Latin America seeking to create a region free of autonomous weapons.  
Closing out the year, a December regional meeting in Islamabad gathered campaigners from South and Central Asia (Afghanistan, Azerbaijan, Japan, Kazakhstan, Kyrgyzstan, Nepal, Pakistan, and Sri Lanka).The meeting discussed how civil society could work together to promote peace and stability within the region, considered ways to engage regional bodies, such as the South Asian Association for Regional Cooperation (SAARC),  and reflected on strategies to foster greater regional cooperation by and between Asian states towards the goal of immediately launching negotiations of a new treaty.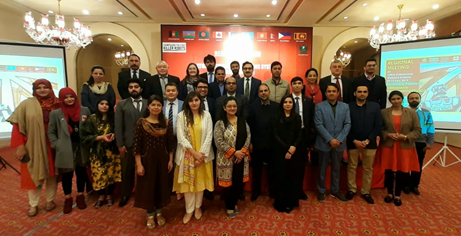 ---
But the true value of our coalition's campaigning in 2019 can't simply be counted and quantified. The impact of our work is not bound to the number of meetings held, or the number of people who liked a tweet. 
The true power of 2019 was in the connections our campaigners made, the capacity we built, the decisions makers we influenced, the supporters we gained, the plans we laid, and – above all – the commitment we fostered.
2019 was a year of growth and momentum for our Campaign around the world. Going into 2020, we're only getting stronger. 
Isabelle Jones, Campaign Outreach Manager