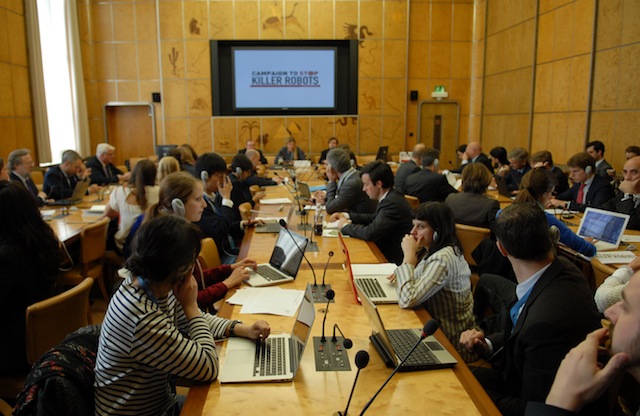 To suggest an event for the calendar of upcoming events, actions, and advocacy opportunities please contact us.
2018
June
Jun. 11-13 (Geneva) Campaign outreach at the Convention on Conventional Weapons (CCW)
Jun. 12 (Helsinki): Parliamentary seminar on autonomous weapons systems with Professor Noel Sharkey
Jun. 21 (Seoul): Korea Advanced Institute of Science and Technology (KAIST) event on AI ethics with remarks by Professor Toby Walsh
Jun. 29–30 (Belfast, Northern Ireland) Queen's University Belfast Senator George J. Mitchell Institute for Global Peace, Security and Justice conference on Security and Justice in the Age of Killer Robots with Noel Sharkey
July
Jul. 3 (Zagreb): Annual Arms Control Symposium with discussion on fully autonomous weapons
Jul. 5 (Rome): Rete Disarmo seminar on killer robots
Jul. 13-19 (Stockholm): International Joint Conference on Artificial Intelligence (IJCAI 2018)
Jul. 19 (Colombia): Network for Human Security in Latin America and the Caribbean (SEHLAC) meeting on killer robots
August
Aug. 20-24 (Beijing): International Conference on Pattern Recognition (ICPR 2018).
Aug. 27-31 (Geneva): CCW meeting of the Group of Governmental Experts on lethal autonomous weapons systems chaired by Ambassador Amandeep Singh Gill of India
September
Sep. 25 (New York City): Opening of the high-level debate of the UN General Assembly
October
Oct. 1-5 (Madrid): IEEE/RSJ International Conference on Intelligent Robots and Systems (IROS 2018)
Oct. 3-4 (Tokyo): AAR-Japan seminar on killer robots
Oct. (New York City): UNGA First Committee on Disarmament and International Security (all month-long), 2018 Humanitarian Disarmament Forum (13-14 October)
November
Nov. 21-23 (Geneva): Annual meeting of the Convention on Conventional Weapons chaired by Ambassador Jānis Kārkliņš of Latvia
December
Nothing scheduled yet
2019
February
Feb. Association for the Advancement of Artificial Intelligence (AAAI 2018)
###
Please help overcome the all-male panels or "manpanels" that have dominated the international debate on fully autonomous weapons to date by suggesting female experts to speak at events.