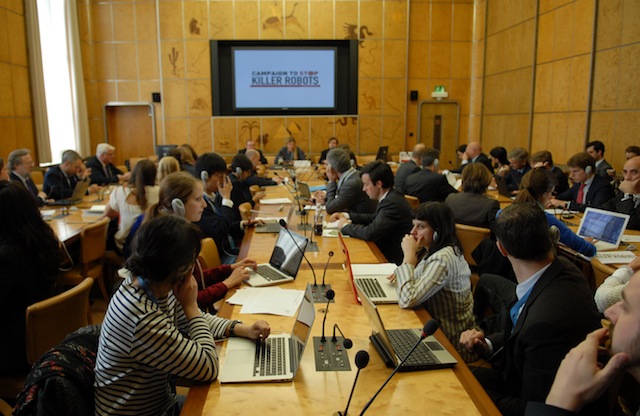 To suggest an event for the calendar of upcoming events, actions, and advocacy opportunities please contact us.
May
May 30: (Ottawa, Canada) Campaign to Stop Killer Robots hosts a lunch for the Canadian Parliament
May 30: (Menlo Park, CA) "The Rise of the Robots" US-Japan Robotics Conference – with Marta Kosmyna
June
June 6: (San Francisco, CA) Killer Robots: A Threat to Human Rights event hosted by the Campaign to Stop Killer Robots featuring Steve Goose of Human Rights Watch
June 11-14: (Tunis, Tunisia) RightsCon 2019 – with Rasha Abdul-Rahim, Amnesty International
June 17: Erin Hunt of Mines Action Canada talk on Canada's role in humanitarian disarmament at the University of British Columbia
June 19: (Stockholm, Sweden) ICRC-SIPRI meeting with Richard Moyes
June 21: (Weimar, Germany) Panel on killer robots at the Weimar Festival hosted by ICRAC's Thompson Chengata and Noel Sharkey
June 21: (San Francisco, CA) Ethics in Tech Community Night and Comedy Show – with Marta Kosmyna
June 26-28: (Medellin, Colombia) Regional Campaign to Stop Killer Robots meeting hosted by SEHLAC and outreach at the General Assembly of the Organization of American States in Medellín, Colombia
June 27: (Luxembourg City, Luxembourg) Toby Walsh conducts advocacy meetings with government officials
June 28 (tentative): CCW Informal Consultation on lethal autonomous weapons systems
August
Aug. 20-21: Eighth Convention on Conventional Weapons (CCW) meeting on lethal autonomous weapons systems at UN Geneva – with campaign delegation.
September
September 5: (Sanremo, Italy) Richard Moyes at the ICRC's 42nd Round Table on Current Issues of International Humanitarian Law, "IHL and New Technology – How Much Human Control is Required by Existing Rules?"
October
Oct: 74th session of UN General Assembly First Committee on Disarmament and International Security – campaign delegation.
Oct. 19-20: (New York) Eighth Annual Humanitarian Disarmament Forum
November
Nov. 6: (Zurich, Switzerland) Public event at the Europa Institut at the University of Zurich
Nov. 13-15: Annual CCW meeting with decision on deliberations on killer robots in 2020.
###
Please help overcome the all-male panels or "manpanels" that have dominated the international debate on fully autonomous weapons to date by suggesting female experts to speak at events.