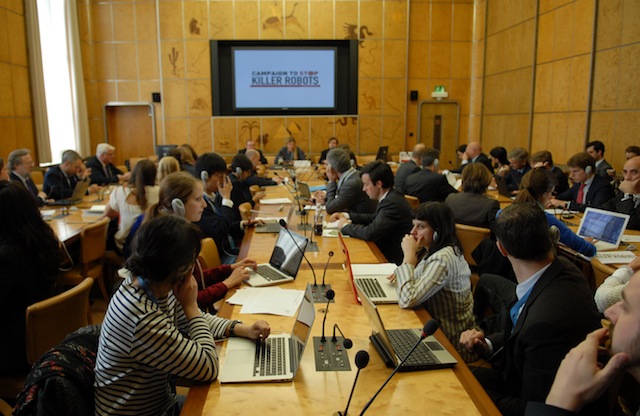 To suggest an event for the calendar of upcoming events, actions, and advocacy opportunities please contact us.
2019
August
August 19 (Geneva): Convention on Conventional Weapons (CCW) informal consultation on lethal autonomous weapons systems
August 20-21 (Geneva): Convention on Conventional Weapons (CCW) eighth meeting on lethal autonomous weapons systems – with Campaign delegation
September
September 5 (San Remo): ICRC 42nd Round Table on Current Issues of International Humanitarian Law discussion on new technology and human control with Richard Moyes Article 36
September 7 (Tokyo): Symposium on Contemporary Challenges of International Humanitarian Law, Panel on Human Control over Autonomous Weapons Systems with Campaign Coordinator Mary Wareham
September 16 (Oxford): 100+ Brilliant Women in AI & Ethics conference with Rasha Abdul-Rahim, Amnesty International
September 26-28 (Rome): Vatican Seminar: "The Common Good in the Digital Age" with Jody Williams, Nobel Women's Initiative
October
Oct. 19-20 (New York): Humanitarian Disarmament Forum convened by Colombian Campaign Against Landmines
October 21 (New York): Killer robots event at 74th session of UN General Assembly First Committee on Disarmament and International Security – campaign delegation.
November
November 6 (Zurich): University of Zurich Europa Institut public event with HRW's Steve Goose
November 13-15: Convention on Conventional Weapons (CCW) annual meeting of high contracting parties – decision on future work to address killer robots in 2020.
2020
March
March 10-11 (Paris): Natixis Investment Management Summit with HRW's Mary Wareham
###
Please help overcome all-male panels or "manpanels" by suggesting female experts to speak at events.