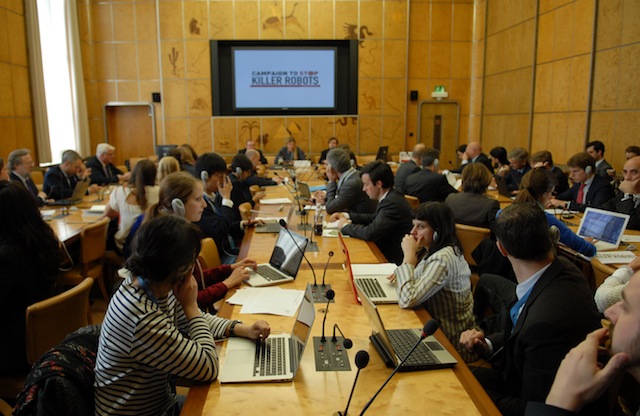 To suggest an event for the calendar of upcoming events, actions, and advocacy opportunities please contact us.
2018
March
Mar. (Boston): Public event on "Humanitarian Disarmament: The Way Ahead" convened for the inaugural conference of the Armed Conflict and Civilian Protection Initiative at Harvard Law School – with campaign coordinator Mary Wareham.
Mar. 5-8 (Chicago, Illinois): 13th Annual ACM/IEEE international conference on human robot interaction.
Mar. 9-10 (Princeton, New Jersey): Princeton University's Center for Information Technology Policy conference on the ethics of artificial intelligence – panel on autonomous weapons with Peter Asaro of ICRAC.
Mar. 14-15 (Berlin): The Aspen Institute conference on artificial intelligence and national security with ICRAC's Frank Sauer and Professor Toby Walsh.
Mar. 17 (Geneva): Film festival panel on concerns over killer robots – with Steve Goose of Human Rights Watch.
Mar. 23-24 (Columbus, Ohio): Ohio State University Moritz College of Law conference on "national security, emerging technologies, and the law" – with ICRAC's Peter Asaro.
April
Apr. 5 (Washington DC): Brookings Institution roundtable discussion on "Lethal Autonomous Weapons Systems and International Law: The Next Frontier" in partnership with The Hague Municipality and the Embassy of the Netherlands.
Apr. 9-13 (Geneva): Convention on Conventional Weapons (CCW) meeting of the Group of Governmental Experts on lethal autonomous weapons systems chaired by Ambassador Amandeep Singh Gill of India.
Apr. 12-14 (Stanford, California): WeRobot conference at Stanford University with Peter Asaro from ICRAC.
May
May 16-18 (New York City): Uehiro Foundation of Japan, Carnegie Council of New York and Oxford University's Centre for Practical Ethics conference on "ethics and the future of artificial intelligence – session on "drones and killer robots" with ICRAC's Peter Asaro.
June
Jun. 29–30 (Belfast, Northern Ireland) Queen's University Belfast Senator George J. Mitchell Institute for Global Peace, Security and Justice conference on Security and Justice in the Age of Killer Robots
July
Jul. 13-19 (Stockholm): International Joint Conference on Artificial Intelligence
August
Aug. 27-31 (Geneva): CCW meeting of the Group of Governmental Experts on lethal autonomous weapons systems
September
Nothing scheduled yet
October
Oct. (New York City): Annual session of the UN General Assembly First Committee on Disarmament and International Security
November
Nov. 21-23 (Geneva): Annual meeting of the Convention on Conventional Weapons chaired by Ambassador Jānis Kārkliņš of Latvia
December
Nothing scheduled yet
###
Please help overcome the all-male panels or "manpanels" that have dominated the international debate on fully autonomous weapons to date by suggesting female experts to speak at events.