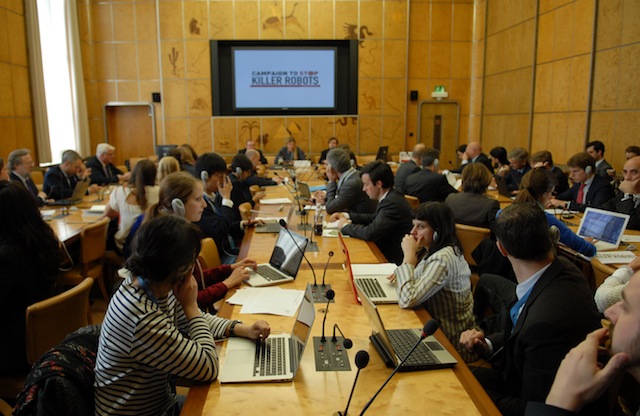 To suggest an event for the calendar of upcoming events, actions, and advocacy opportunities please contact us.
2018
September
Sep. 25 (New York City): Opening of the high-level debate of the UN General Assembly
Sep. 28-30 (Osaka): International Conference on Artificial Intelligence, Robotics and Automation
October
Oct. 1-5 (Madrid): IEEE/RSJ International Conference on Intelligent Robots and Systems (IROS 2018)
Oct. 3 (Tokyo): Japanese parliament event convened with AAR Japan and HRW Tokyo with Mary Wareham
Oct. (New York City): Campaign outreach at UNGA First Committee on Disarmament and International Security (12-17 October), incl. 2018 Humanitarian Disarmament Forum
November
Nov. 21-23 (Geneva): Annual meeting of the Convention on Conventional Weapons chaired by Ambassador Jānis Kārkliņš of Latvia
December
Nothing scheduled yet
2019
February
Feb. Association for the Advancement of Artificial Intelligence (AAAI 2018)
###
Please help overcome the all-male panels or "manpanels" that have dominated the international debate on fully autonomous weapons to date by suggesting female experts to speak at events.