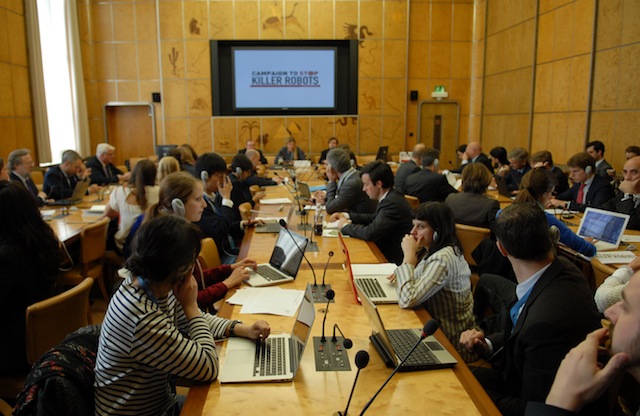 To suggest an event for the calendar of upcoming events, actions, and advocacy opportunities please contact us.
2017
October
5 (Ottawa) University of Ottawa conference on autonomous weapons systems with MAC's Paul Hannon.
9-10 (Kraków, Poland): European CYBERSEC Forum defence panel on the potential consequences of military technologies with ICRAC's Noel Sharkey.
16 (New York): Campaign to Stop Killer Robots briefing for delegates attending UN General Assembly First Committee on Disarmament and International Security.
18 (New York): Intrepid Sea, Air & Space Museum (aircraft carrier in the Hudson) drones exhibition panel discussion with ICRAC's Peter Asaro.
November
2-3 (London): WIRED conference panel on autonomous weapons with campaign coordinator Mary Wareham of HRW and ICRAC's Noel Sharkey.
13-27 (Geneva): First meeting of the CCW Group of Governmental Experts on lethal autonomous weapons systems, followed by annual CCW meeting on 22-24 November. Campaign to Stop Killer Robots briefings for delegates on 13 and 22 November.
27 (Copenhagen): Public seminar on autonomous weapons at the Danish Institute for International Studies with campaign coordinator Mary Wareham.
###
Please help overcome the all-male panels or "manpanels" that have dominated the international debate on fully autonomous weapons systems to date by suggesting female experts to speak at events.